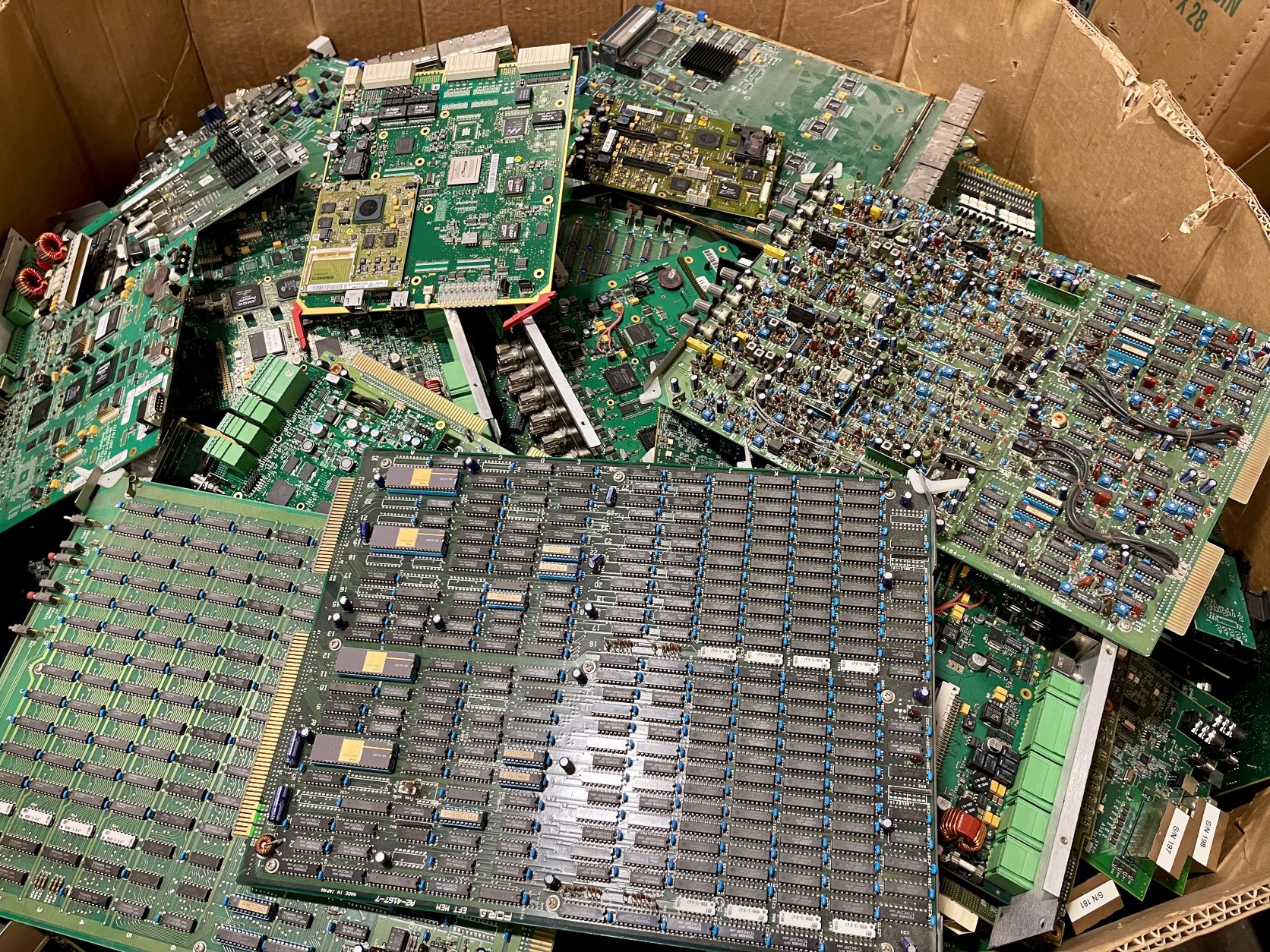 As part of its commitment to sustainability, UMB uses a local electronics waste hauler.
---
The University of Maryland, Baltimore (UMB) has been recycling its electronic waste (oftentimes referred to as "e-waste") for a decade. Since 2012, UMB has diverted 169 tons of e-waste from the landfill. The harmful emissions avoided is equivalent to driving 329,438 gas-powered car miles.
In spring 2022, the University's Strategic Sourcing & Acquisition Services department switched to a new e-waste hauler, A Better Way Computer Recycling, as part of UMB's commitment to sustainability. Why A Better Way? The company is local to Maryland — instead of hauling electronics to a facility in Oklahoma, UMB's e-waste is transported to a facility in Glen Burnie to be processed, which greatly reduces the amount of greenhouse gas emissions associated with transporting these materials. A Better Way is R2/RIOS (Responsible Recycling) certified, an Environmental Protection Agency-endorsed standard.
A Call to Action
Why is recycling e-waste important? Not only are outdated electronics inefficient and generally more energy-intensive, they also tend to clutter office spaces and take up valuable real estate sitting forgotten in supply closets. Improper disposal of electronics poses serious health threats, as they contain heavy metals that need to be specially processed. General trash from UMB's campus is incinerated. By recycling and disposing of electronics responsibly, the University prevents harmful toxins from being released into our atmosphere and into the air we breathe.
Melvin Tuck, logistics manager, put it best with this quote:
"The most dangerous kind of waste is the waste we do not recognize." — Shigeo Shingo
Aligning with Our Core Values
UMB updated its core values in fall 2021 with four new sets of values — Wellness and Sustainability being one of them. A message from President Bruce E. Jarrell, MD, FACS, states, "These new core values better describe the behaviors that UMB considers acceptable. They are tools to guide our behavior, strategies, and decision-making. They set expectations for everyone at every level of UMB." At UMB, we live the new core values by committing to more sustainable practices for our community and our planet.
Working with A Better Way Computer Recycling allows UMB to save on packaging materials since the electronics do not have to travel as far, ensuring less plastic film and various packaging waste ends up in landfills. A Better Way also focuses on reuse before recycling, which ranks higher on the waste hierarchy. While recycling materials is important, reusing an item to its fullest extent allows less resources to be used to make a brand-new product.
Ultimately, mindful purchasing practices allow us to prevent even more waste from being generated. Maryland's Department of General Services has a Green Purchasing webpage for best practices in environmentally preferred purchasing.
Additional Co-Benefits and Partnerships
BIORESCO, UMB's central supply core for researchers, receives deliveries daily. While BIORESCO purchases in bulk to minimize packaging, packing waste still accumulates. A Better Way is working with BIORESCO to pick up plastic film, air envelopes, and other materials for reuse in its operations. This partnership allows UMB to divert waste from the incinerator and A Better Way to cut packaging costs.
"BIORESCO embraces this partnership, as it complements our Mission Statement — 'to conserve time, money, space, resources and effort for the University of Maryland, Baltimore and its researchers.' In addition, for over two decades, BIORESCO has offered clean boxes, packing materials, and ice packs to our research community. UMB's partnership with A Better Way Computer Recycling complements BIORESCO's mission, and we are thrilled to participate!" – Sanjay Uchil, manager, Applications Development, Center for Innovative Biomedical Resources, University of Maryland School of Medicine
How to Recycle Electronics on Campus
Do you have outdated electronics in your office? We encourage you to contact the appropriate authorized user in your department to dispose of these items. Any electronic item owned or leased by the University that contains data or a hard drive (such as computers, cell phones, thumb drives, servers, etc.) that need to be disposed of must go through the IT Disposal System.
Have other items around that you don't need, such as office furniture or medical equipment? They can be disposed of by completing the Excess Property Declaration/Capital Asset Deletion Form via DocuSign.
Have personal items to get rid of? The University partners with A Better Way Computer Recycling every April and October to collect unwanted personal electronics. A Better Way wipes data from personal items as well, but it is recommended that you wipe your data from your electronics before recycling them. You can also find electronic recycling options through the local government where you live: Baltimore City, Baltimore County, Anne Arundel County, Harford County, and Howard County.