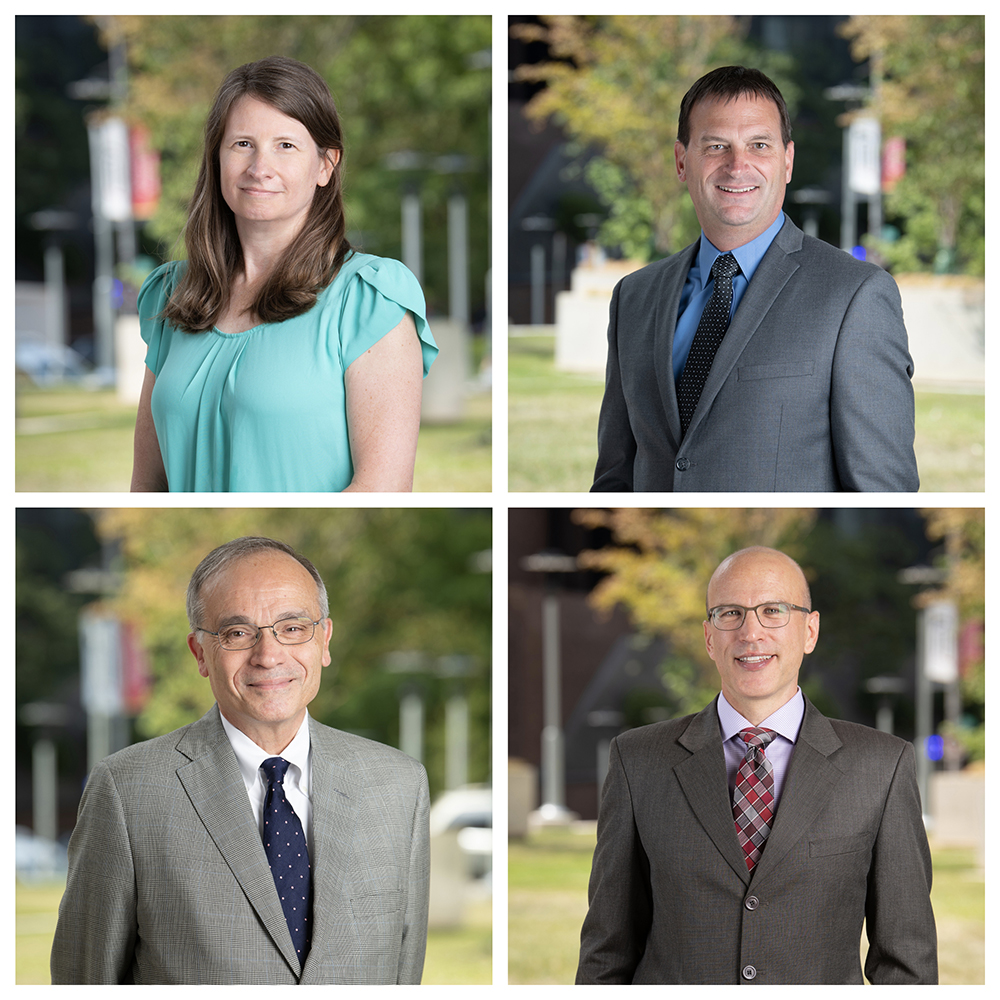 Every fall, UMB recognizes the outstanding work of our faculty and staff with awards for Entrepreneur, Public Servant, Researcher, and Educator of the Year.
---
The University of Maryland, Baltimore (UMB) dedicates one week each fall to commemorating our rich history and celebrating the future we're building together. This year, Founders Week runs Oct. 21-26. (Get more information at our Founders Week website.)
Among the highlights of Founders Week is recognizing the extraordinary work of our faculty and staff. Four awards are given every year, each signifying outstanding accomplishment in one facet of our mission. Here are the recipients of the 2019 Founders Week Awards.
Public Servant of the Year
Michelle G. Giglio, PhD
School of Medicine
Associate Professor, Department of Medicine
Academic and Outreach Coordinator, Institute for Genome Sciences
When Michelle Giglio looks beyond the boundaries of UMB's campus, she sees inequality in opportunities for youth. So she's doing something about it, working to promote STEM (science, technology, engineering, and math) education to underserved students in Baltimore.
"Everyone deserves the same opportunities in life, but in reality things are often not fair," says Giglio, associate professor in the Department of Medicine at the School of Medicine (SOM) and academic and outreach coordinator at SOM's Institute for Genome Sciences (IGS). "I see our University right next to neighborhoods that are facing some tough challenges — the two exist in completely different worlds. I want to help bridge that gap."
Giglio's bridge-building efforts are multifaceted, including major work with UMB's CURE Scholars Program. She has volunteered a great deal of time to the mentoring initiative, which launched in 2015 and prepares middle and high school students in West Baltimore for careers in research, STEM, and health care. Giglio hosts part of the CURE summer program for rising seventh-graders, teaching them about DNA, cell structure, and genetics using interactive games and activities.
Giglio also started a program called the Maryland Microbiome Project in spring 2018. This program brings STEM events to high school students throughout the city and around the state. "Students spend a full day learning about bacterial communities and doing experiments. They engage in actual field work, collecting soil samples for later microbiome analysis that is carried out by IGS. They are doing real science," she says.
Giglio believes that if students from underserved neighborhoods are exposed to a variety of new experiences and careers, they can find avenues to pursue their interests and follow their dreams. "I hope to send a message to kids that they have options," she says. "I want to show them that there are resources out there to help them reach their goals."
Claire M. Fraser, PhD, director of IGS and the Dean's Endowed Professor at SOM, says Giglio's STEM educational volunteerism goes "above and beyond anything that could be reasonably expected of our faculty."
Fraser adds: "Dr. Giglio is truly passionate about the need to expose children to scientific concepts and the beauty of science. She embodies UMB's strategic mission goal to partner with Baltimore City schools, demonstrating meaningful and sustainable educational opportunities that can serve as a catalyst for community empowerment."
Entrepreneur of the Year
Robert K. Ernst, PhD
School of Dentistry
Professor and Vice Chair, Department of Microbial Pathogenesis
As a leading scientist in the fight to understand the interplay between a bacterial pathogen and the host defense mechanisms, Robert Ernst uses the National Institutes of Health's "bench to bedside" approach. The mission: Take the findings of research and develop them into new ways to treat patients.
Ernst has earned major research contract/grants, developed a diagnostic test to more rapidly identify bacteria- and fungi-caused infections, and co-founded a company, Pataigin, aimed at developing a method to quickly and accurately identify disease-producing agents, or pathogens.
Ernst is clearly getting results — and rewards. For his "bench" efforts, he won the University of Maryland, Baltimore's (UMB) Researcher of the Year Award in 2017. Two years later, his "bedside" work has been recognized with his selection as UMB Entrepreneur of the Year.
"Over the past five years, we've tried to take our initial observations in pathogen identification, vaccine adjuvant development, and sepsis therapeutics and move them toward the 'bedside' as much as we can in an academic setting," says Ernst, who has been at SOD since 2008, when he moved from the University of Washington. "The recognition from UMB for these efforts suggests that we might be moving in the right direction."
In 2014, Ernst and UMB colleague David Goodlett, PhD, professor in the School of Pharmacy, launched Pataigin, a company that aims to commercialize technology to develop a "barcode" for each pathogen strain. A chemical analysis known as mass spectrometry would identify the disease based on the barcode. This would allow clinicians to identify pathogens directly from blood, urine, or wounds without the need for cell culture, and it would offer superior performance compared to current treatment options.
Ernst says Pataigin has been in discussions with multiple diagnostic companies to further commercialize its discoveries. That's good news, says Marco A. Chacon, PhD, former associate vice president of industry alliances for UMB, who sees Ernst's translational and entrepreneurial efforts having a significant impact on health care in the United States.
"He possesses great enthusiasm for science and an ability to translate basic scientific principles into practical applications," Chacon says. "I believe Dr. Ernst is the embodiment of entrepreneurship, as evidenced by the novel technologies he has developed."
Researcher of the Year
David C. Gray, JD, PhD, MA
Francis King Carey School of Law
Jacob A. France Professor of Law
David Gray is the only member of his family to go into the legal profession, bitten by the law bug when he joined the policy debate team at his high school in Blacksburg, Va. As an undergraduate at the University of Virginia, he got involved with the student judiciary committee as a judge and then a counselor.
"I found a lot of meaning in representing clients, so law seemed like a good fit," says Gray, the Jacob A. France Professor of Law at the Carey School of Law. "But I'd also been taking philosophy and anthropology classes and was particularly interested in questions of political and social justice. I decided to pursue a PhD in philosophy and a degree in law, which would allow me to keep a foot in the world of theory and ideas and a foot in the world of application and practice."
Combining his expertise in both worlds, Gray has forged an impactful career as a professor, researcher, and author. His research focuses on criminal law, criminal procedure, constitutional theory, and transitional justice, and he is considered a national expert on the Fourth Amendment, which protects U.S. citizens against unreasonable search and seizure by the government.
Gray is the author of The Fourth Amendment in an Age of Surveillance, co-author of Get a Running Start: Your Comprehensive Guide to the First Year Curriculum, and co-editor of the Cambridge Handbook of Surveillance Law. He also has published dozens of articles and book chapters in leading journals and is in demand as a speaker at prestigious institutions and conferences.
Michael Pappas, JD, MA, Carey Law's associate dean for research and faculty development, calls Gray's contributions to the fields of criminal law and criminal theory "substantial" and praises Gray's impact internationally as a central figure in humanitarian law and the promotion of transitional justice, which involves the implementation of judicial and nonjudicial measures to redress legacies of human rights abuses during transitions to democracy.
"Dr. Gray has been invited to present this work in a number of international forums and is widely cited by scholars around the world as providing a philosophically complete and coherent theory of transitional justice," says Pappas, who calls Gray one of the "most elite young scholars of his generation."
Educator of the Year
Francis B. Palumbo, PhD, JD, MS
School of Pharmacy
Professor, Department of Pharmaceutical Health Services Research
Executive Director, Center on Drugs and Public Policy
Francis Palumbo's selection as the University of Maryland, Baltimore's (UMB) 2019 Educator of the Year was bolstered by letters of recommendation from two UMB deans as well as five former students who took time out of their busy lives to rave about his character and influence.
Palumbo, professor in the Department of Pharmaceutical Health Services Research at the School of Pharmacy (SOP) and an adjunct professor at the Francis King Carey School of Law, was touched when told about his ex-students' appreciation.
"I've been involved in many aspects of higher education, but my impact on the lives of my students gives me the greatest satisfaction," Palumbo says. "I'm very pleased that my former students have good thoughts about me, and I take pride in their career successes."
Palumbo, a licensed pharmacist with a PhD in health care administration and a law degree, has been a member of SOP's faculty since 1974. Over the years, he's taught pharmacy management, medical care organization, health economics, and pharmacy law. In the 1980s, he co-founded the school's distinguished graduate program in Pharmaceutical Health Services Research as well as its Center on Drugs and Public Policy.
Palumbo has mentored many master's and PhD students, and at Carey Law he teaches a popular course in food and drug law.
"Dr. Palumbo continues to be a positive force at UMB. He has applied his pharmaceutical and research training and practice to his academic career and made a great impact on our school and our students," says SOP Dean Natalie D. Eddington, PhD, FAAPS, FCP. "The students have always thought very highly of his work and his influence on them."
One former student is Noel E. Wilkin, PhD, the provost and executive vice chancellor for academic affairs at the University of Mississippi, who studied under Palumbo at SOP and worked with him while pursuing his PhD.
"Dr. Palumbo had a memorable influence on my perspectives and my commitment to the pharmacy profession," Wilkin says. "He combines his legal knowledge and ability as a scholar to make significant contributions in one of the world's most regulated professions and industries. His calm, measured, and principled approach to solving problems, teaching his courses, and providing advice has made him a valuable resource and contributor to the professional and graduate programs at the School of Pharmacy."
In photo collage (clockwise, from top left): Giglio, Ernst, Gray, and Palumbo. Read more about the award winners here.