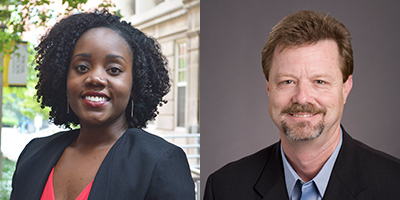 Ericka Lewis & Mike Woolley receive 2023 Diversity and Inclusion in Men in Families Research Article Award.
---
Drs. Ericka M. Lewis and Michael Woolley received the 2023 Diversity and Inclusion in Men in Families Research Article Award by the National Council on Family Relations (NCFR). The award recognizes high-quality research on men in diverse families. Lewis and Woolley will be honored at the NCFR Annual Conference in Orlando, Florida.
Title: The Ties that Bind: An Exploration of Son-in-Law and Father-in-Law Relationships in Black Families
Journal: Psychology of Men and Masculinities
Abstract:
Despite the emerging research on in-law relationships and its impact on building healthy families, the majority of studies focus on women. Therefore, the evidence on male in-law relationships is scant. Even less is known about how Black families experience male in-law relationships. Drawing from the Afrocentric Intergenerational Solidarity model, this qualitative study explored the situational factors and interpersonal exchanges that contribute to the fostering of positive relationships for Black sons-in-law and their fathers-in-law. Semi-structured qualitative interviews were conducted with Black/African American sons-in-law about their relationship with their father-in-law. Study findings suggest that sons-in-law believed having similar interests and putting forth an effort to engage in family activities and gatherings helped shape the relationship. Explicit communication, mutual support, and shared values were also perceived as critical components to building a healthy and positive relationship. These interactions provided opportunities for fathers-in-law to express their expectations of sons-in-laws in their roles as husbands and fathers, as well as offer support to sons-in-law. As a result, in-laws were able to discuss culturally masculine values and establish a mutual respect for one another. Study findings indicate that the Black male in-law relationship is a complex and unique process that may facilitate cohesion within the family. Additionally, understanding the role of Black fathers-in-law in strengthening sons-in-law's spousal and parenting efficacy may lead to evidence-based interventions that include multi-generational approaches to healthy family functioning.
Read the full article here:
https://psycnet.apa.org/record/2022-01624-001