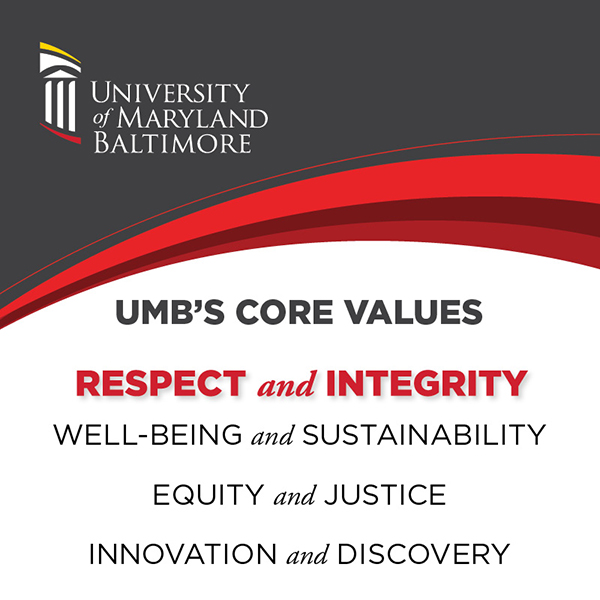 As part of our 2022-2026 Strategic Plan, UMB has developed a new set of core values. During April, the University is celebrating Core Values Month and has compiled definitions and a list of "How to Be a Catalyst" suggestions for each set of core values.

They will be rolled out on The Elm each Wednesday this month. The core values are:
Respect and Integrity
Well-Being and Sustainability
Equity and Justice
Innovation and Discovery
---
THIS WEEK: RESPECT and INTEGRITY

Definition

We value each other and hold ourselves accountable for acting ethically and transparently using compassion and empathy.
How to Be a Catalyst for Respect and Integrity
Promote open communication: Be honest and transparent with others, speak with sincerity and act with compassion, and learn and practice good listening skills.
Act ethically: Adhere to the highest standards of professional and personal responsibility, even when no one is looking.
Show empathy: Demonstrate consideration and compassion for people, help those in need, and act with patience and flexibility especially when unexpected circumstances arise.
Be accountable: Accept responsibility for your actions — good and bad, be reliable and trustworthy, and follow up and follow through on your commitments.
Learn About UMB's Core Values Month Events
Learn More About UMB's Core Values