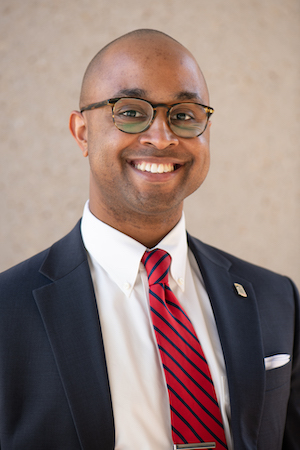 Bill Joyner, JD, MSW, has been named the University of Maryland, Baltimore's (UMB) assistant vice president for community engagement, effective Aug. 1, 2022.
Joyner currently serves as the director of equity, diversity, and inclusion at UMB. Before that, he served as equity officer at the Baltimore Police Department (BPD). He previously was senior economic inclusion specialist and community engagement coordinator at UMB's Office of Community Engagement (OCE) and admissions specialist at the University of Maryland School of Nursing.
Joyner received his JD from the University of Maryland Francis King Carey School of Law and his MSW from the University of Maryland School of Social Work. He is pursuing a Master of Business Administration at the University of Maryland Robert H. Smith School of Business.
He brings a wealth of experience and personal passion to the position.
In his former role at OCE, he designed and led UMB's local purchasing initiatives, resulting in an increase in spending with local minority- and woman-owned business in Baltimore from 0.1 percent to more than 15 percent in three years. The program exceeded its initial goals by more than 200 percent ahead of schedule and under budget, and still exists today as an excellent example of UMB's commitment as an anchor organization.
At the BPD, he led a coalition of stakeholders to develop the first-ever Strategic Framework to Advance Equity for the department. That work led to the federal government awarding $1.3 million to scale and sustain the community collaboration and neighborhood policing activities they piloted.
Joyner, who described the AVP position as a "dream job," won a 2020 UMB Diversity Recognition Award for outstanding staff member and was named a UMB Champion of Excellence in 2015. He was a nominee in 2020 for the Outstanding Contribution to an Institution by the University System of Maryland Board of Regents Awards. This year, he was named Field Instructor of the Year at the Coppin State University School of Social Work.