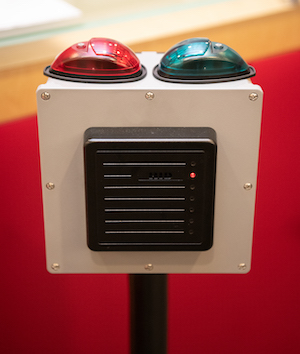 University of Maryland, Baltimore (UMB) lobbies have two new systems for the safety of our community: a red and green card reader and a visitor management kiosk. These systems may be used now and will be fully implemented beginning Jan. 3.
One Card Readers: Building Occupancy Monitor
Each building now has a card reader with red and green lights on a pedestal near the security kiosk. All UMB students, faculty, and staff will need to swipe their One Cards each time they enter a UMB building. This ensures that only those with approved access are entering UMB buildings. UMB security officers will ensure that each person is swiping their One Card at the pedestal.
This system also helps to track building occupancy during an emergency. While UMB community members should not swipe out when they leave a UMB building, emergency officials can use the data to identify the last location each One Card was used. This can determine if a community member may still be inside and need help.
Lobby Guard: Visitor Management System
Visitors to UMB can quickly and easily sign in using Lobby Guard. The kiosk allows visitors and delivery persons to scan their driver's license (or enter their information if they do not have a driver's license), take a picture, answer COVID-19 safety questions, and identify the person they are visiting. The system will print a sticker badge with the date. When they leave, visitors can simply scan the barcode on the sticker badge. UMB community members who forget their One Card can also use Lobby Guard to sign in.
Thank you in advance for your cooperation and patience as we roll out these two systems Universitywide. Together, we can ensure a safer UMB.