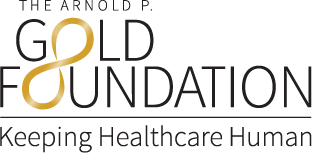 Deadline to notify Dean Kirschling: May 4, 2022
The Arnold P. Gold Foundation is sponsoring partial scholarships of $5,000 for up to two Gold Humanism Scholars at the Harvard Macy Institute 2022/2023 Program for Educators. We seek to support medical and nursing educators working to develop and enhance educational projects focused on achieving humanistic patient care that can be replicated across a variety of health care delivery settings.

The Gold Foundation's mission is to champion humanism in health care, which we define as compassionate, collaborative, and scientifically excellent care. This Gold standard of care embraces all and targets barriers to such care. We empower experts, learners, and leaders to together create systems and cultures that support humanistic care for all.

Eligibility: faculty from an accredited school of medicine or nursing in the U.S. and Canada

Gold Humanism Scholars should be recognized at their institution for their commitment to the mentorship of trainees in the humanistic and professional practice of medicine and care of patients. Preference will be given to candidates who embody the qualities of a humanistic educator and role model, including:
central role in nursing education in home institution
demonstrated commitment to fostering humanism, empathy, compassion, and the highest standards of professionalism
promise/potential as a leader in nursing education.
If you are interested in applying, please notify Dean Kirschling (kirschling@umaryland.edu) of your interest no later than May 4.