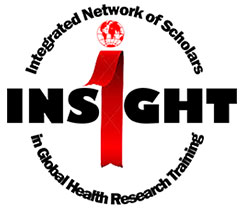 To help train and foster the next generation of global health scientists, the Fogarty International Center and its partners at the National Institutes of Health have funded four consortia of universities to administer 12-month clinical research training programs.
The INSIGHT program partnership includes the University of Alabama at Birmingham; Baylor College of Medicine; the University of Maryland, Baltimore; and the University of Pittsburgh.
The program through the University of Maryland School of Medicine's Institute for Human Virology aims to provide the next generation of aspiring global health researchers in the U.S. and in LMIC by giving scientists, early in their careers, a mentored research training experience in global health at established biomedical and behavioral research sites.
The program has four Disease Tracks, four Population Tracks, and three Science Tracks that underpin the global health research and priority needs of our partner LMIC institutions.
UMSON PhD students are highly encouraged to apply; the School of Medicine is willing to help develop and pair mentors and financially support post-doctorates.
LEARN MORE and APPLY