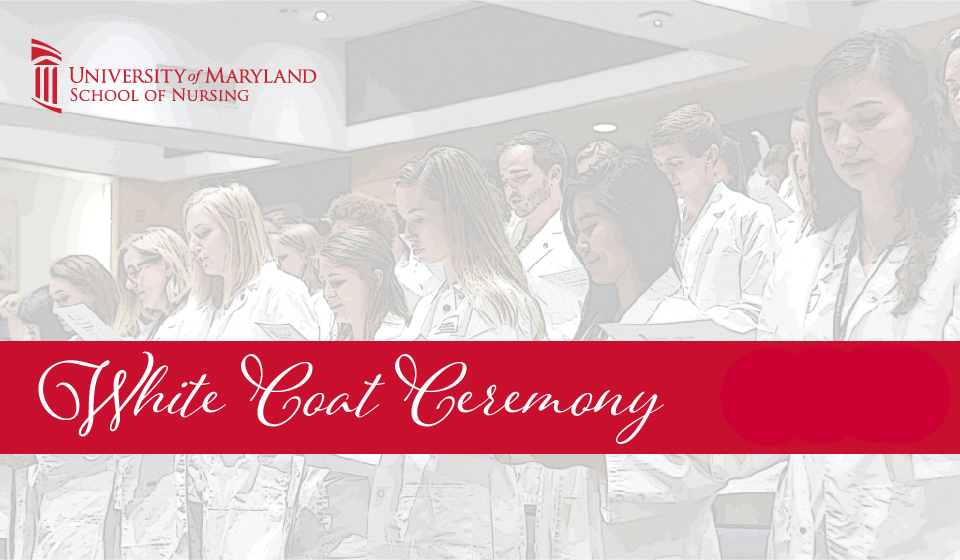 Please join us in person for the traditional cloaking ceremony for our first-semester entry-into-practice Bachelor of Science in Nursing (BSN) and Clinical Nurse Leader (CNL) master's students. The event is sponsored in part by the Arnold P. Gold Foundation.
Spring 2022 White Coat Ceremony - Baltimore
Tuesday, Feb. 15
4 - 5 p.m.
UMSON, Room 130 (auditorium)
The guest speaker is Ruth J. Lee, DNP '10, MS '04, MBA, RN, NEA-BC, UMSON Alumni Association Council member and senior director of adult inpatient services at Inova Health System in Virginia.
Spring 2022 White Coat Ceremony - USG
Monday, Feb. 21
4 - 5 p.m.
USG, Building II, Multipurpose Room
The guest speaker is Elizabeth McKee, BSN '13, RN, CCRN, CEN, clinical specialist at Frederick Health, Maryland.
Share your White Coat experience! We invite you to share photos and videos of your cloaking with us on social media and tag #UMSON to be featured on our channels.