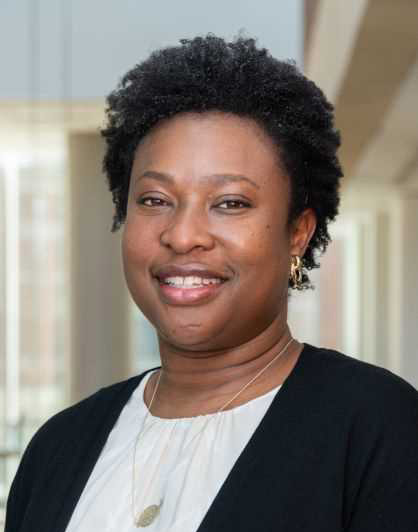 "Spreading out my contributions via the payroll deduction method allows me to achieve my personal target for annual giving in a budget-friendly manner. Like many individuals, I like to set 'stretch goals' for myself; my giving goals are no exception, thus I appreciate the flexibility associated with payroll deduction.
"I support the Department of Pharmaceutical Health Services Research [PHSR] and the School of Pharmacy with my contributions. PHSR provides important support to trainees at a critical juncture in their academic journey. With financial support from the department, our students attend conferences, present results from their research projects, and meet leaders in the field. The timing on these opportunities can be just as important as the opportunities themselves. I am proud to support the department's efforts to place conferences and professional development opportunities within reach for our students."
— Eberechukwu Onukwugha, MS, PhD, associate professor, PHSR, School of Pharmacy
---
University of Maryland, Baltimore (UMB) employees have the option of donating directly to the school, center, fund, or program of their choice at UMB through payroll deduction. This form of giving is:
Convenient: Set it and forget it.
Budget-friendly: You choose the amount that works best for you and your lifestyle.
Reliable: Assures the program or cause of your choice a consistent source of funding to use throughout the year.
Learn more at www.usmd.edu/give/.