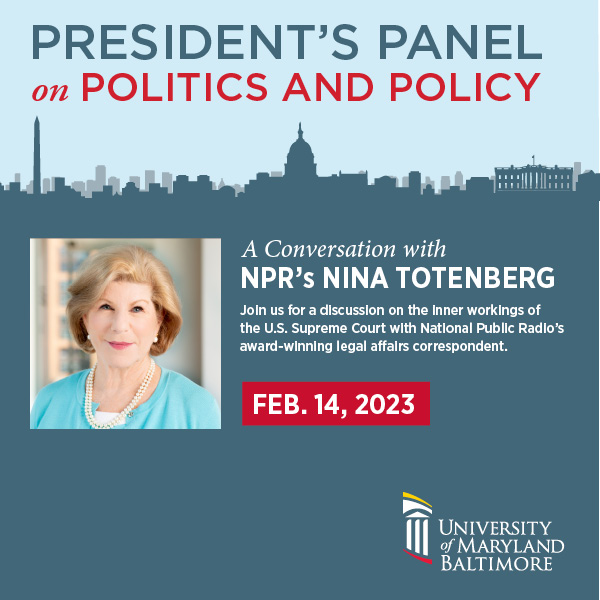 President's Panel on Politics and Policy
"A Conversation with NPR's Nina Totenberg"
Please join us for an interesting discussion between Renée McDonald Hutchins, JD, dean of the Francis King Carey School of Law, and National Public Radio's award-winning legal affairs correspondent Nina Totenberg. University of Maryland, Baltimore President Bruce E. Jarrell, MD, FACS, will host the discussion.
In-person registration has closed, but you can register to watch it virtually here.
Date: Feb. 14, 2023
Time: 8:30 a.m.
Nina Totenberg, Legal Affairs Correspondent, National Public Radio
Nina Totenberg shines a light on the inner workings of the U.S. Supreme Court and helps audiences understand the impact that headline-making judicial cases will have on the United States and its citizens.
One of the country's most respected journalists covering the nation's highest court, Totenberg is National Public Radio's (NPR) award-winning legal affairs correspondent. She has more than 40 years of experience at NPR, and her reports are regularly featured on NPR's "All Things Considered," "Morning Edition," and "Weekend Edition."
Totenberg has won every major journalism award in broadcasting and was the first radio journalist to have won the National Press Foundation's Broadcaster of the Year award.
Referred to as "the crème de la crème" of NPR by Newsweek, Totenberg shares her seasoned reflections on the Supreme Court, top legal issues affecting Americans, and the important cases being considered by the court. Her reporting is in-depth and thought-provoking, and her deep experience and nuanced perspective provide audiences with keen insight into today's judicial headlines.
Totenberg's book, "Dinners with Ruth: A Memoir on the Power of Friendships," a tribute and testament to her nearly 50-year friendship with late Supreme Court Justice Ruth Bader Ginsburg, was published by Simon & Schuster in September 2022.