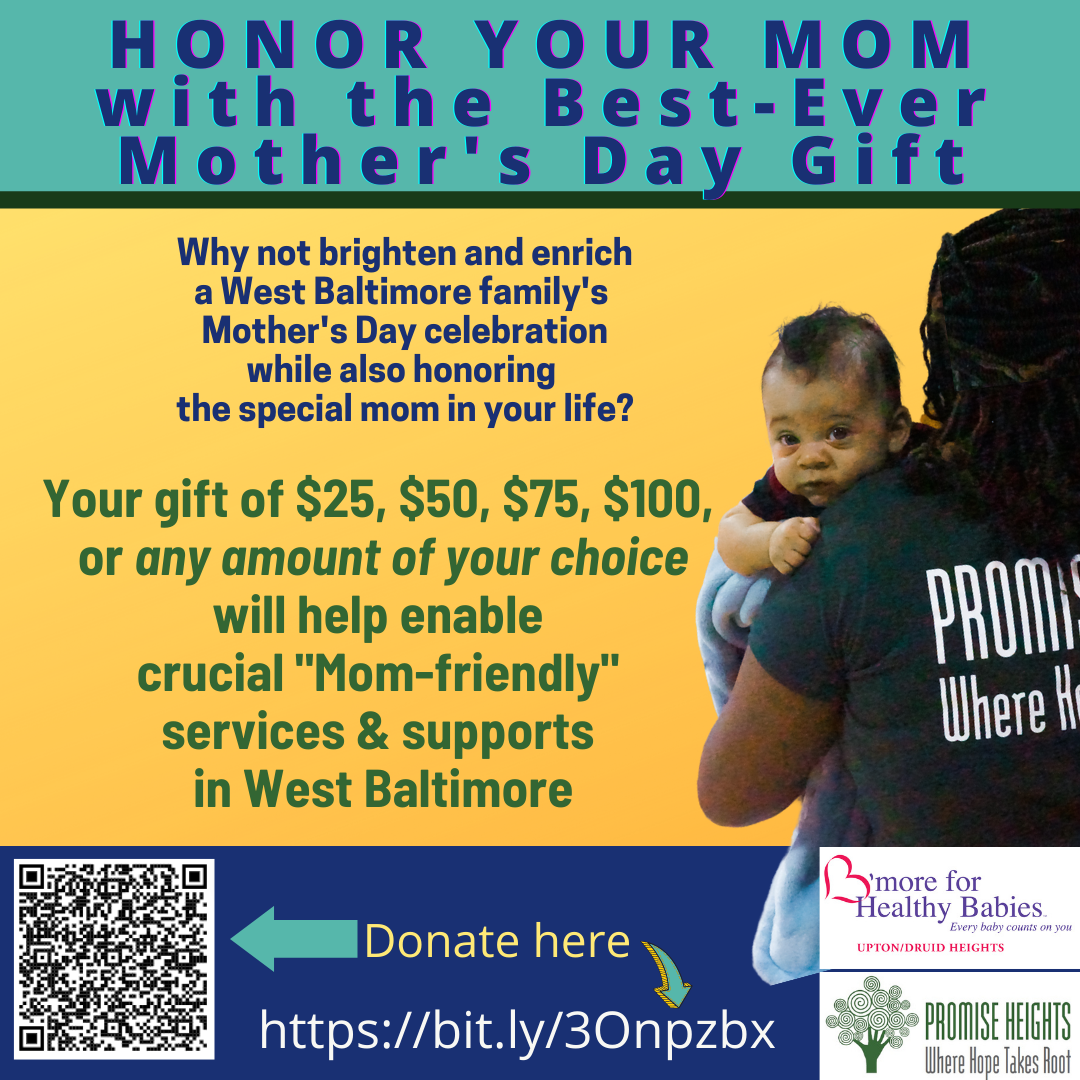 The special mom in your life will always welcome flowers or candy on Mother's Day, but why not also honor her by enriching a West Baltimore family's Mother's Day celebration via your gift of any amount to B'more for Healthy Babies?
During its 12-plus-year partnership with Promise Heights, B'more for Healthy Babies (BHB) has significantly contributed to the births of healthy babies in Upton/Druid Heights by offering valued services to every pregnant woman.
Your gift will be used in a variety of ways:
BHB sends a Resource Mom or Dad to assess a new family's needs.
Parents are enrolled with their kids from birth to age 5 in special BHB programs and events that offer positive interaction and transformative support.
In collaboration with residents and community partners, the BHB team also brings passion to a wide variety of strategic policies impacting families experiencing inequities and disparities.
BHB delivers essential hygiene items and groceries to families in need.
Select community members are trained via a Doula Support Certification initiative to build essential health guidance and support families.
Most important, as announced in June 2021, BHB's dedication has contributed to a crucial reduction in the infant mortality rate for Upton/Druid Heights, which is now cause for celebration, as the neighborhood's success represents the lowest rate in Baltimore City and is among the lowest throughout Maryland.
Make your donation via UMB's secure link at https://bit.ly/3Onpzbx
Learn more about BHB and this special Mother's Day opportunity at https://promiseheights.org/blog/mothers-day-2022-gifts