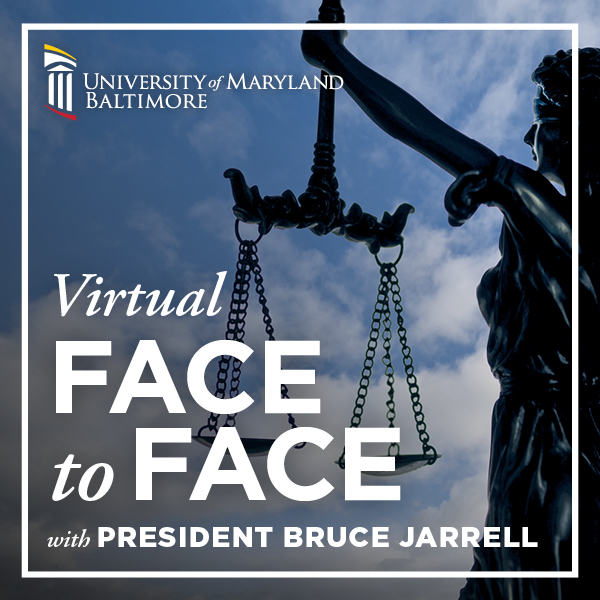 Virtual Face to Face with President Bruce Jarrell

Roe v. Wade Overturned: Impact and Implications
Wednesday, June 29, 11 a.m.
On June 24, the United States Supreme Court (SCOTUS) delivered its most significant decision in recent memory, ruling in the case of Dobbs v. Jackson Women's Health Organization, a Mississippi abortion law case, and overturning the landmark abortion case Roe v. Wade. (Read about the decision here.)
This decision will not only have a dramatic effect on women's health and reproductive rights, but it also will greatly affect issues surrounding maternal health, mental wellness, family care, and economic equality. The overturning of Roe v. Wade also could unravel a wide range of privacy rights, such as the right to have access to emergency contraception and other rights previously affirmed by the court but not specifically mentioned in the Constitution.
To be part of this important national conversation, University of Maryland, Baltimore (UMB) President Bruce E. Jarrell, MD, FACS, will host a special edition of Virtual Face to Face with President Bruce Jarrell on June 29 to discuss the impact and implications of the ruling.
Dr. Jarrell will be joined by a panel of UMB thought leaders to answer questions and facilitate a discussion about the major impact the ruling will have on women, the disproportionate effect it will have on the Black, Indigenous, and people of color (BIPOC) community, and the socioeconomic issues that inevitably will arise.
Guests
Nadine M. Finigan-Carr, PhD, MS, research associate professor and director, Prevention of Adolescent Risks Initiative, University of Maryland School of Social Work (UMSSW)

Jessica K. Lee, MD MPH, assistant professor, Department of Obstetrics, Gynecology, and Reproductive Sciences, University of Maryland School of Medicine
Stacey Stephens, MSW, LCSW-C, clinical instructor and director, B'more for Healthy Babies-Promise Heights, UMSSW
Danya Qato, PhD, PharmD, MPH, assistant professor and director, Pharmaceutical Health Services Research Graduate Program, University of Maryland School of Pharmacy
---
Learn more about Virtual Face to Face at this link.