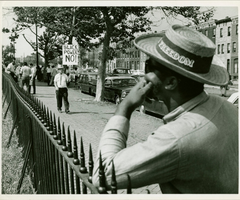 The Maryland Center for History and Culture invites you to attend the exhibition opening of

Passion and Purpose: Voices of Maryland's Civil Rights Activists
Friday, May 20, 2022

From tearing down the notion of "separate but equal" in the 1930s and '40s to the national headline-making protests of the 1960s and through today, Marylanders were and are at the forefront of the Black freedom struggle. The lived experiences of these activists make up the complex mosaic of the long and continuing fight for civil rights in Maryland and across the nation. In this exhibition, historic moments in the ongoing civil rights movement are told through the words and voices of those who lived it. Here, oral histories and photography connect past to present and provide personal perspectives on historic moments.
4:30 - 6 p.m.
Exclusive First Look and Champagne Toast

6 - 8 p.m.
Opening Celebration -- free to the public
Drinks & light fare
Music by Cam's Sounds & Vibrations
Voter Registration by the League of Women Voters in Baltimore City
Museum address:
610 Park Ave.
Baltimore, MD 21201