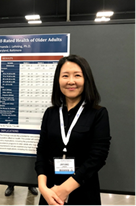 The PhD Program is pleased to announce that PhD student Ji Hyang Cheon will defend her dissertation proposal on Tuesday, May 24th, at 10:00am.
Ji Hyang's dissertation will look at "Push factors and Mental Health among Older Adults: The Moderating Effects of Social Support" and is chaired by Dr. Amanda Lehning.
Guests are welcome to attend the presentation portion of the defense virtually. Visit https://www.mysswbulletin.info/single-post/phd-student-ji-hyang-cheon-proposal-defense-5-24 for more details.