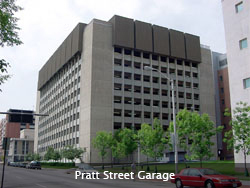 Due to necessary renovations in the Pratt Street Garage, beginning May 23 to May 31, the Pratt Street Garage will only be accessible to cardholders. All transient parkers will need to park in the Penn Street Garage located at 120 S. Penn St. (directly across from Pratt Street Garage).
Parkers using the Pratt Street Garage must enter from the secondary entrance lane near the elevators. Parking attendants will assist with traffic direction during peak entry/exit times. The rear exit of Pratt Street Garage will be open to assist with exiting traffic during these periods. Penn Street Garage will remain open 24 hours from Monday, May 23, to Thursday, May 26, and close at midnight on May 27.
During the holiday weekend (May 27-May 30), transient parkers may park in the Baltimore Grand Garage located at 5 N. Paca St. or the Plaza Garage located at 500 W. Redwood St.
Please contact bsimmons@umaryland.edu or stacy.holmes@umaryland.edu with questions or concerns.
We appreciate your patience and cooperation during this project.