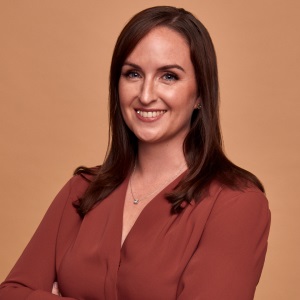 The Graduate School is pleased to present the next installment in our Profiles in Social Innovation Series spotlighting local leaders delivering sustainable solutions to complex problems.
Join us at noon on March 24, 2022, for our first conversation of this series featuring Jess Gartner, CEO and founder of Allovue, an education finance technology company based in Baltimore.
As a former middle school teacher, Gartner learned first-hand how budgeting impacts student success. It was a constant challenge to acquire the resources needed to provide a great learning experience, so she became curious about how budgeting and purchasing decisions were made and evaluated in districts and schools. The founding Allovue team brought together inspired professionals with backgrounds in education, product, and marketing to build innovative education finance technology (EdFinTech). They work with school districts to strategically and equitably allocate resources with the help of their budgeting and financial management tools.
Register here to join the conversation.
The UMB Profiles in Social Innovation series is sponsored by the Master of Science in Health and Social Innovation, where the next generation of social change agents are crafting their visions for sustainable social change. We hope that your participation in this exciting event will inspire you to think big and consider how we might be able to help you make your ideas come to life.