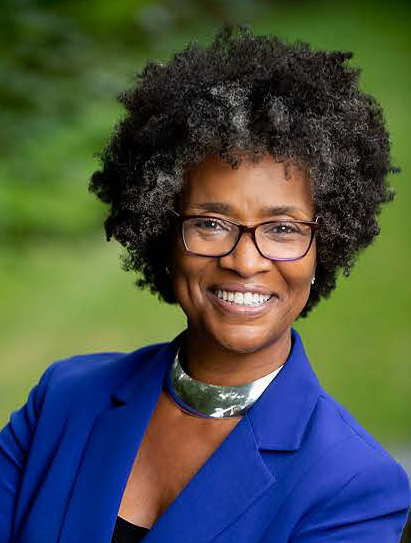 The University of Maryland, Baltimore Commemorates

Rev. Dr. Martin Luther King Jr. and Black History Month 2023
Tuesday, Feb. 7
Noon to 1:30 p.m.
MSTF Leadership Hall
Reception/light lunch to follow in the Atrium
KEYNOTE SPEAKER

Sharon Fries-Britt, PhD
Professor of Higher Education, University of Maryland, College Park
"Unraveling the Threads of Social Inequality: Continuing King's Legacy of Consciousness Raising and Racial Equity in America"
This event will be held in person for the first time since 2020. Register here for the in-person event.
If you cannot attend in person, you can register to watch it virtually. Please register only once.
About Dr. Fries-Britt
Sharon Fries-Britt, PhD, is a professor of higher education and Distinguished Scholar-Teacher at the University of Maryland, College Park (UMCP). Her research examines the experiences of high-achieving Blacks in higher education; underrepresented minorities in science, technology, engineering, and math (STEM) fields; and issues of race, equity, and diversity. Fries-Britt has published widely within peer-reviewed journals. Her research has been funded and supported by the Lumina Foundation, National Society of Black Physicists, National Science Foundation, and the Bill & Melinda Gates Foundation.
Fries-Britt is a co-author and co-editor of the 2022 book "Building Mentorship Networks to Support Black Women: A Guide to Succeeding in the Academy" (Routledge Press). She was one of the faculty co-leads of a national case study of the University of Missouri recovery process after the campus racial unrest of 2015. This work in collaboration with the American Council on Education has resulted in two national monographs. Fries-Britt was a member of the American Institute of Physics National Task Force (2018-2020) to Elevate African American Representation in physics. She is a co-principal investigator on a National Science Foundation grant (2018-2022) to explore the academic trajectories of Black transfer engineering students from community colleges.
Before her academic career, she served as a senior-level administrator in higher education, and she has consulted extensively with colleges and universities, foundations, governmental agencies, national organizations, and private industry on issues of race, equity, diversity, and leadership. With over 40 years of professional experience in the field of higher education, she brings a wealth of knowledge, insight, and experience to research and practice. She is the recipient of numerous awards including the American Educational Research Association Social Justice in Education Award (2021), American Physical Society Excellence in Physics Education Award (2022), NASPA Award for Academic Excellence as a Graduate Faculty Member (2022), the UMD Alumni Excellence in Research Award (2019), and the Association for the Study of Higher Education Mentoring Award (2011).
Fries-Britt earned her PhD in higher education from UMCP, her master's degree in higher education from Ohio State University, and her bachelor's degree in family studies and education from UMCP.