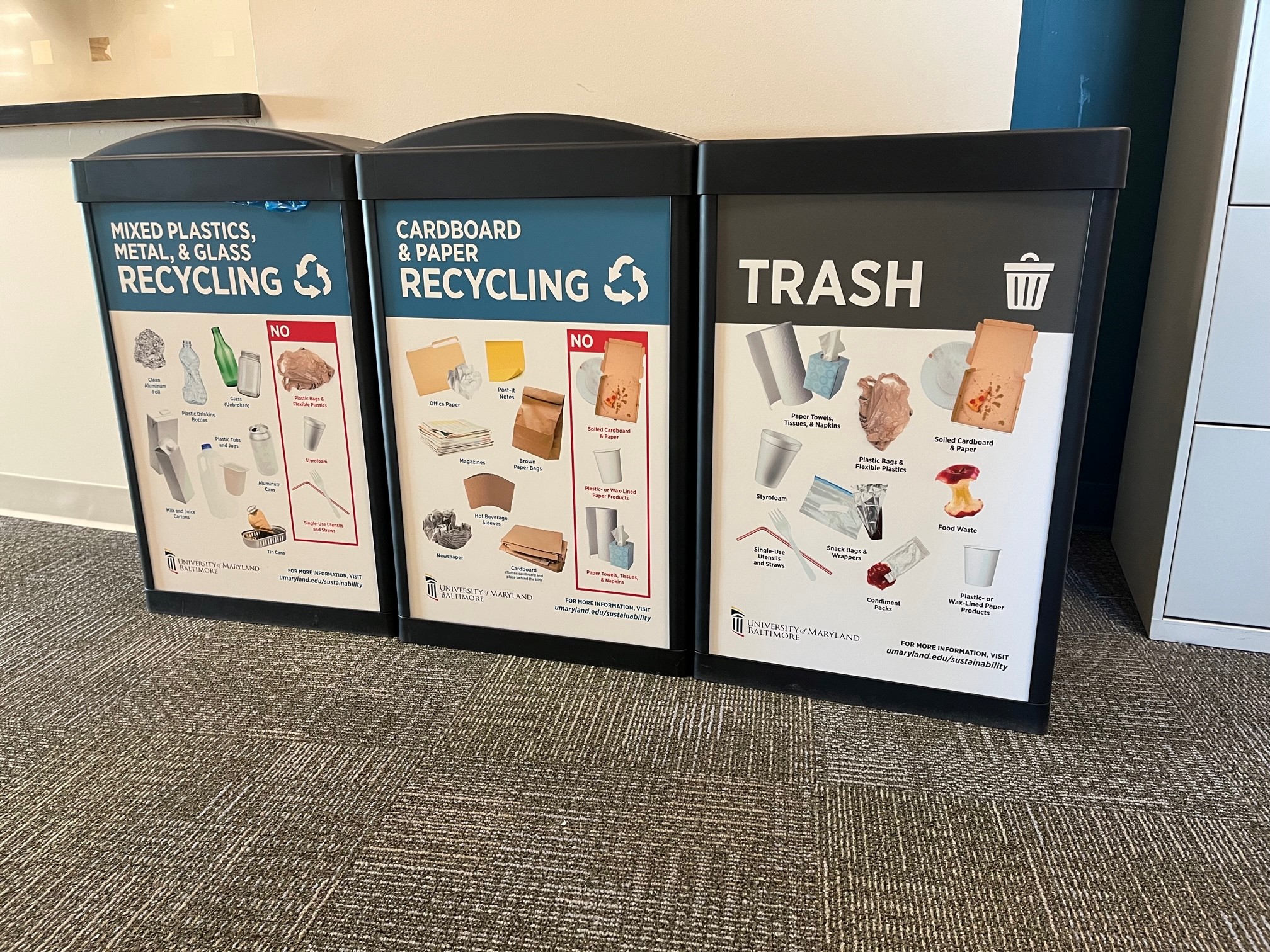 The University of Maryland, Baltimore's (UMB) Office of Sustainability and Environmental Services (EVS) will begin rolling out a self-service waste initiative across campus in January 2023. Under this new system for waste collection, faculty and staff will be responsible for bringing their office waste to conveniently located, common receptacles that include trash, cardboard and paper recycling, and mixed plastics, metal, and glass recycling. Individual desk-side bins will be removed. Be on the lookout for improved bins and signage coming to your building soon!
Why is UMB implementing this program? Research has shown that centralized waste stations decrease waste stream contamination by encouraging people to use clearly labeled, centralized bins. All material disposed of as trash at UMB is sent to the Wheelabrator incinerator just down the road from our campus; this means that about 3 million pounds of waste produced at UMB are incinerated each year. By sorting our waste properly, we have the opportunity to ensure more material is recycled and diverted from the incinerator, thus decreasing the amount of pollutants released into the air we breathe.
More information on the self-service waste initiative, including copies of the new standard waste signage, can be found on the Environmental Services website. For a short educational video about the initiative, visit the UMB Office of Sustainability Instagram.
The Office of Sustainability is also available to give a waste and recycling presentation to departments, student organizations, or other groups on campus. Send us an email at sustainability@umaryland.edu to have us come to an upcoming meeting for 10 to 15 minutes to educate your constituents about waste management on campus!