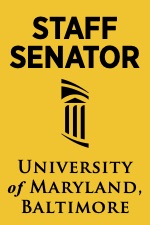 The UMB Staff Senate advocates on behalf of UMB staff with regard to University policies and procedures that affect eligible employees; work environment and staff morale; and issues impacting wages, benefits, and working conditions. We also lead many Universitywide community outreach activities.
The Staff Senate is made up of an elected executive committee and over 20 representatives from each school and other academic units, across UMB.
Staff senators serve two-year terms. The self-nominated elections are held each spring and open to exempt staff.
Staff senators attend monthly meetings where information is disseminated and discussions on current events and issues that relate to and affect the staff of UMB take place.
Benefits of being a staff senator:
A voice in setting University policies that affect UMB staff
Opportunity to connect and collaborate with new people from across UMB campus
Engage with University Leadership
Staff senators serve two-year terms. The self-nominated election period is April 4 through April 18. Only exempt staff members are eligible to apply. Election voting will take place May 2 through May 16. The self-nomination and election links will be emailed to all exempt staff and will be available on the Staff Senate webpage.
For more information, please check out our website: https://www.umaryland.edu/ssenate/