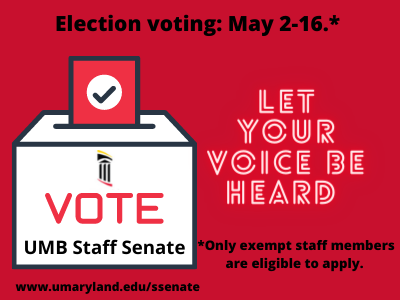 The polls are live! Elections for the Fiscal Year 2023 Staff Senate term will run until May 16. You may vote for up to eight candidates for this year's Staff Senate Elections.
Each candidate's profile is featured on the Staff Senate website at https://www.umaryland.edu/ssenate/staff-senate-nominations/, and you may access this year's ballot by visiting https://cf.umaryland.edu/election/staff_senate_ballot/.
If you are having difficulty accessing your ballot, here are two ways staff have resolved the issue:
Chrome and Microsoft Edge users have received errors while loading the ballot. Try a different web browser to see if it loads on a different platform.
If VPN is turned on while accessing the ballot and you receive an error, try disconnecting from the VPN and then loading the website.
If you have questions or issues with the UMB Staff Senate Ballot, please contact a member of the Nominations & Elections Committee:
@Ayuk-Brown, Ayamba – Co-Chair
@Singleton, Shereece – Co-Chair