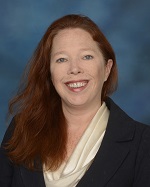 Susan Buskirk, DM, MS, v
ice president and chief
accountability officer,
Office of Accountability and Compliance (OAC), announced that
Stephanie Suerth, MPA,
CCEP, has been appointed acting Title IX coordinator for the University of Maryland, Baltimore (UMB), effective April
12
, 2022.
Suerth is a certified Title IX coordinator and brings a wealth of knowledge of UMB and its community to the role. As acting Title IX coordinator, Suerth will coordinate UMB's response to complaints of sex- and gender-based discrimination, including sexual misconduct.
OAC would like to thank Mary MacFadden, MS, BSN, CCEP, executive director, OAC, for her service as Title IX coordinator since July 2020. MacFadden will continue to serve as a deputy Title IX coordinator for UMB.
Suerth can be reached at:

Office of Accountability and Compliance
Title IX Program
620 W. Lexington St., 5th Floor
Baltimore, MD 21201
410-706-5212 (direct)
ssuerth@umaryland.edu
titleixcompliance@umaryland.edu