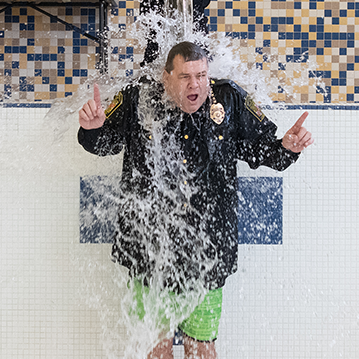 University of Maryland, Baltimore (UMB) Police Chief Thomas Leone is sweetening the deal for those who support him in the 2022 Maryland State Police Polar Bear Plunge benefiting Special Olympics Maryland. Anyone who donates at least $25 will now have the chance to choose one of Chief Leone's costumes as he dives into the icy Chesapeake Bay 24 times in 24 hours.
Here's how it works: Super Plungers are assigned hourly "themes" for each plunge. Many themes are provided by the plunge, but 12 are up for grabs. That's where you come in!
Donate at least $25 (larger donations receive more entries) by March 11 at 12 p.m. and you will be automatically entered into the contest. Winners will be randomly selected on March 11 at 12 p.m. Winners will select their preferred costume theme and then will choose Chief Leone's costume for that hour's super plunge. Photos will be taken and posted to the UMBPD social media channels (Facebook, Twitter, and Instagram).
Learn more about Chief Leone's Costume Contest to benefit Special Olympics Maryland.