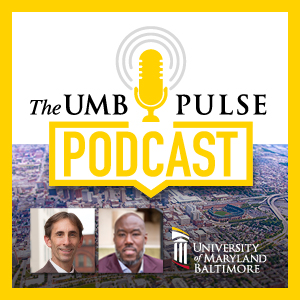 The latest episode of "The UMB Pulse Podcast" was released Friday, April 1:
Bridging research to the community, The PATIENTS Program at the University of Maryland School of Pharmacy excels at giving communities ownership in medical research through patient-centered outcomes. Executive director and School of Pharmacy professor C. Daniel Mullins, PhD, and engagement specialist Rodney Elliott are our guests.

They discuss an exciting partnership between PATIENTS, Mount Lebanon Baptist Church, and CVS Health in Baltimore (7:21), another project with the Southwest Partnership that gives the community stake in research (20:23), and more. They also tease the return of PATIENTS Day in August at the UMB Community Engagement Center (36:50), plus a new program called the PATIENTS Professors Academy (23:17), which is accepting donations to fund future cohorts.

You can also learn more about what PATIENTS does by listening to their Facebook LIVE programs, "Real Talk with Rodney" and "BJ's Corner," every other Thursday (28:37).