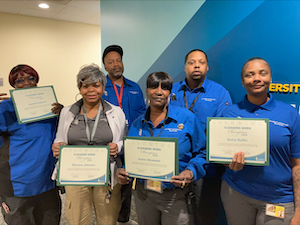 University of Maryland, Baltimore (UMB) celebrated National Cleaning Week March 27-April 2. The weeklong event hosted by ISSA, the worldwide cleaning industry association, provides an opportunity to recognize cleaning professionals, promote and learn about legislation that supports the industry, highlight ISSA's campaign Value of Clean, and more.
We have nearly 200 staff members who are dedicated cleaning professionals at UMB. Our cleaning professionals work for the Environmental Services Department (EVS) and are spread among four divisions, including Custodial Services, Pest Control, Grounds Crew, and Moving & Recycling. The COVID-19 pandemic changed quite a bit about the way UMB operates. One change that we must hang on to is the increased appreciation for and recognition of cleaning professionals that blossomed during the most uncertain days of the pandemic.
During the week, each member of EVS received departmental recognition, industry-related training, and EVS swag.
"The pandemic has demonstrated the essential role that cleaning professionals like custodians, housekeepers, and environmental service workers play in keeping people safe," says ISSA executive director John Barrett. "Because cleanliness impacts every industry, everyone can get involved in celebrating the value and achievements of these essential workers and advocating for a cleaner and healthier world."
Please join me in sharing your gratitude for and recognition of our Environmental Services team!
Respectfully,
Denise J. Meyer, Associate Director, EVS