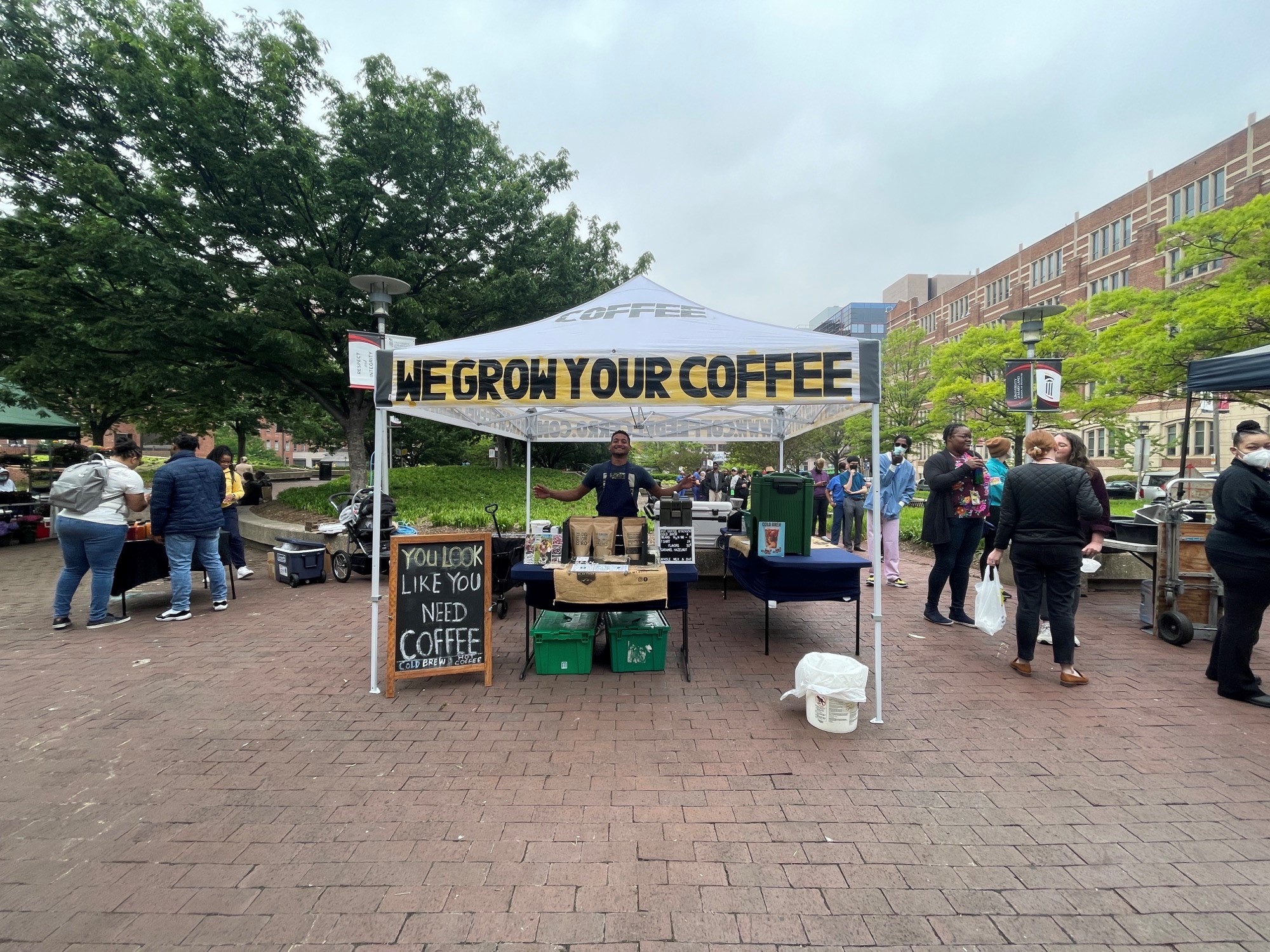 The University Farmers Market is now open for the 2022 season! Join us every Tuesday from 10 a.m.–2 p.m. at Plaza Park, on the corner of Paca Street and Baltimore Street, to purchase fresh produce, sweet treats, prepared meals, and more! By hosting a farmers market, the University of Maryland Medical Center and University of Maryland, Baltimore are helping to improve the availability of fresh, locally grown food to its employees, students, patients, visitors, and area residents and businesses.
Purchasing food from local farmers not only supports the local agricultural community and the local economy, but it also decreases "food miles." Food travels on average 1,500 miles from farm to plate. However, when purchased locally, food travels an average of 60 miles. This significant decrease in the distance traveled cuts down on fuel consumption, greenhouse gases, air pollution, and the likelihood of related diseases, including asthma, lung disease, lung cancer, and heart disease. It also cuts down on plastics used in packaging and allows farmers to pick food when ripe, maximizing the nutrient content in the food and providing you with fresher food that tastes better.
See below for a list of vendors for the 2022 season!
El Piquin: Back for another year, Paulino and his crew will be dishing out delicious burritos, quesadillas, burrito bowls, and freshly made crepes with a large variety of fillings.
eMerge: eMerge operates one of the oldest greenhouse and wholesale flower farms in Maryland, a facility in continuous operation since 1954. eMerge customers do all the work of planting, watering, weeding, and caring for the growing plants under the guidance of eMerge staff.
Coffee del Cerro: Coffee del Cerro's vision is to improve the lives of those in the coffee community by paying fair and sustainable prices through the purchase of their farm's coffee. Their coffee is high quality and ethically sourced.
Jimmunity: Jimmunity believes in the power of natural fruits and veggies, and prides itself in picking the best produce from the best local farmers and farmers markets. From fresh-squeezed lemonades to cold-pressed premium all-natural, no additives or preservatives juices, they wow the Jimmunity way.
Lil Ria Natural Soaps: Maria "Ria" Alexander specializes in natural soaps, scrubs, soy wax candles, and whipped butters with the intent to nourish the body.
MoMo Thai Food: Mo offers a taste of authentic Thai food. Using fresh ingredients, a variety of dishes are prepared from scratch and enhanced by herbs and spices for a genuine flavor.
Traci's Treats: Traci's Treats works with local suppliers to source the freshest and most natural ingredients, and uses old-fashioned techniques to ensure the highest quality. Their goal is to make you feel like you're sitting in the kitchen with them.
Tuckey's Fruit and Vegetable Farm: Located just 15 miles northwest of historic Gettysburg, Pa., Tuckey's offers a full line of berries, fruits, vegetables, honey, and fresh-cut flowers.