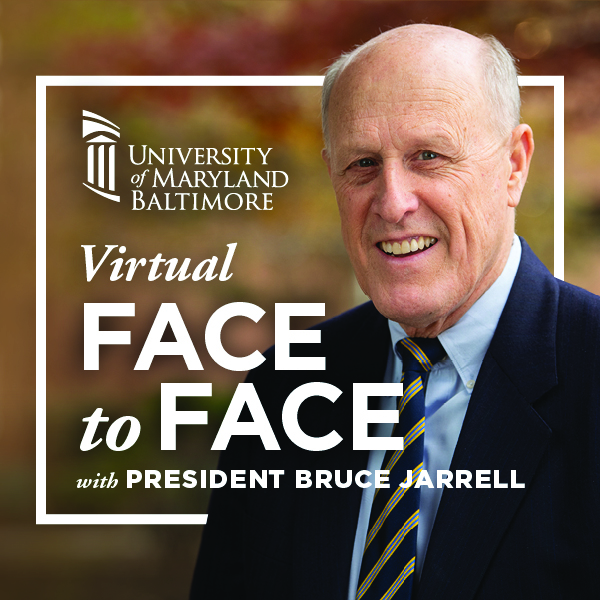 Virtual Face to Face with President Bruce Jarrell, an interview program designed to serve as a forum for University of Maryland, Baltimore (UMB) President Bruce E. Jarrell, MD, FACS, to share critical COVID-19 information with the UMB community and explore issues of interest with subject matter experts, has flourished during the past two years.
The professionals who appeared on the program included University experts, government and health officials, and others who kept the UMB community informed and connected while highlighting the outstanding work of our faculty and staff. Members and friends of the UMB community were invited to watch and listen live, as well as ask questions directly.
As more people have returned to campus, Face to Face has continued to evolve to meet our changing needs. The program schedule will transition to periodic episodes that will be scheduled when President Jarrell has impactful topics to discuss Universitywide. Most importantly, President Jarrell looks forward to seeing everyone in person again!
Numerous events will be taking place in the coming months including his Quarterly Q&A on March 22 and commencement on May 19.
And for those still seeking an opportunity to hear stories of interest and inspiration about UMB and the great work being done locally, nationally, and globally, "The UMB Pulse" podcast will help fill the void.