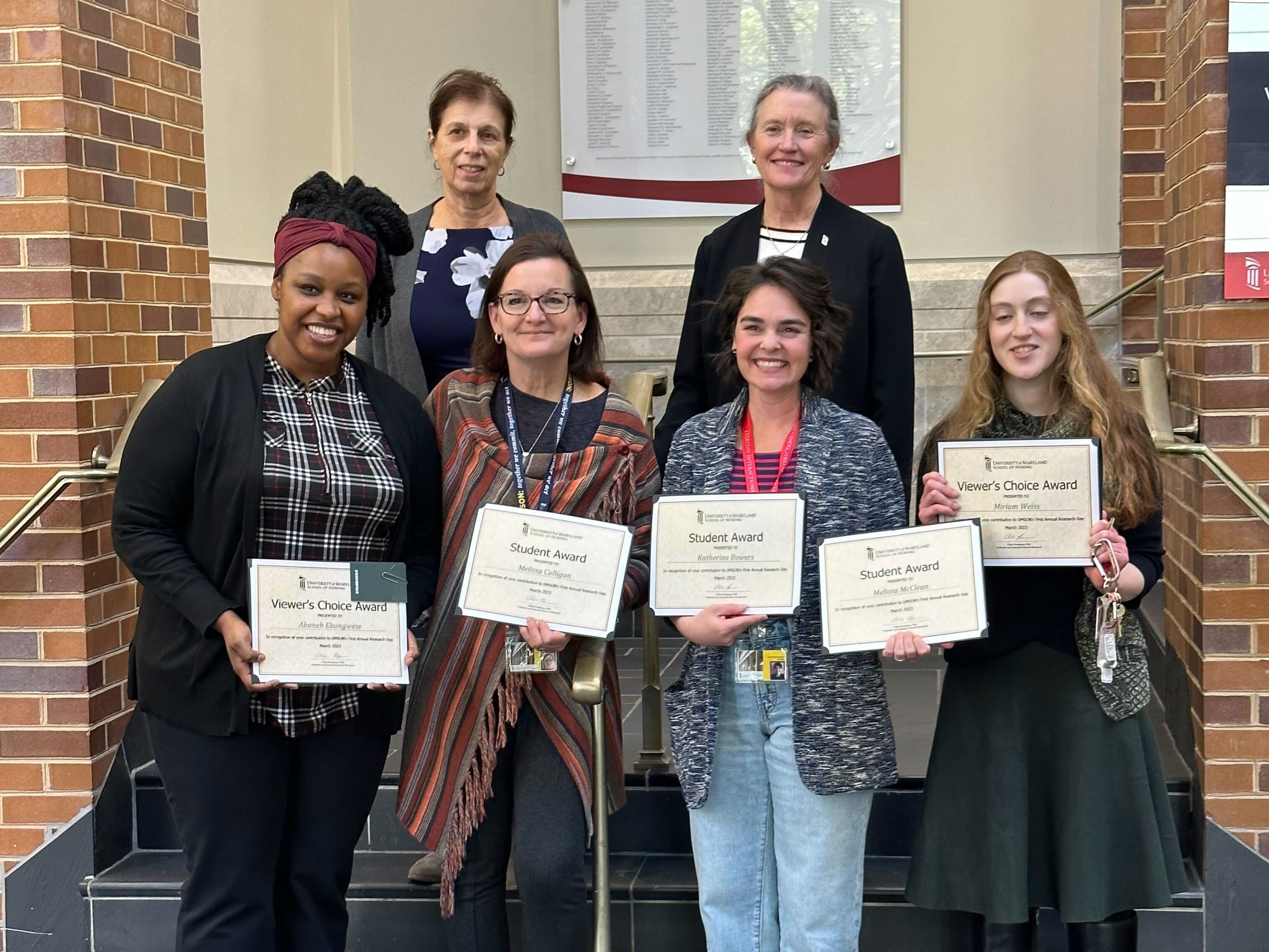 On Thursday, March 30, UMSON hosted its first Research Day, featuring research posters from UMSON faculty, post-docs, and students, and University of Maryland Medical Center nurse researchers. All UMB community members were invited to attend to review the posters and vote on the People's Choice Award. Research Day is expected to become an annual event.
Posters were displayed in the UMSON lobby beginning Monday, March 27.
Congratulations to the poster award winners!
Student Award
1st Place: Katherine Bowers: Loneliness in LGBTQIA+ Older Adults: A Scoping Review
2nd Place: Melissa McClean: "People Need to Know They Matter to Somebody": Staff Perceptions of Compassionate Care Visits for Seriously Ill Residents in Nursing Homes
3rd Place: Melissa Culligan: Perceptions and measurements of dyspnea and quality of life experienced by malignant pleural mesothelioma patients before and after lung-sparing surgery: A pilot mixed methods study
People's Choice Award
1st Place: Sharon Thomas: Coping Strategies in Chronic Pain
2nd Place:  Abaneh Ebangwese: Factors associated with a reduction in modifiable risk factors, with a focus on physical activity, healthy diet, and sleep among Long Term Care workers diagnosed with diabetes
3rd Place: Miriam Weiss: Nociceptive and Transcriptomic Responses in a Swine Diabetic Wound Model Treated with a Topical AT1R Antagonist
photo: back row, l. to r.: Erika Friedmann, PhD, professor and associate dean for research; Jane M. Kirschling, PhD, RN, FAAN, Bill and Joanne Conway Dean of the University of Maryland School of Nursing; front row, l. to r.: Ebangwese, Culligan, Bowers, Weiss