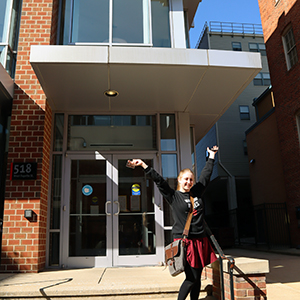 Did you know there is on-campus housing available to all UMB students?
UMB Housing has availability in Fayette Square Apartments for immediate, summer, or fall move-in dates in 2-, 3-, 4-, or 7-bedroom apartments. Located near the corner of West Fayette and and Greene streets, Fayette Square is within minutes of your school and UMB resources (e.g., URecFit & Wellness, SMC Campus Center, and the Health Sciences and Human Services Library).
This is not your undergraduate housing. Fayette Square is just like living in an apartment. There are no resident assistants (RAs) and spouses/domestic partners are welcome, and so are your pets.
Ten- and 12-month licenses are available. These furnished apartments are rented by the bed and include all utilities, basic cable, on-site fitness and laundry facilities, University-provided internet, and group study spaces. In two-bedroom apartments, residents have their own bathroom.
UMB security is provided on site 24/7. There is no application fee, security deposit, or credit check. You can also easily access the UMB shuttle and UMB SafeRide/SafeWalk resources. Have a car? You can purchase a parking pass to the attached garage or another UMB garage.
New and Current Student Housing Scholarship
For many years, UMB has worked with the schools to distribute 20 Scholars in Residence Scholarships in the amount of $5,000 to new incoming students who sign a license to live in Fayette Square because of the many benefits of living on campus.
For a second year, we are expanding this program to award an additional 50 scholarships for $3,000 to new or current students who sign a license to live in Fayette Square for the first time.
Act fast because these scholarships will go fast!
If you don't qualify for the scholarship opportunities or they are no longer available, you may be eligible for one of the following incentives:
Cancel Your Lease Worry-Free or Get Help with Moving Expenses
Are you currently renting off campus but want to live closer to UMB and/or take advantage of all that Fayette Square has to offer? The University is offering two incentives:
$1,000 to the first 25 individuals who cancel their current lease at another property and sign a license to live in Fayette Square (proof of lease cancellation required).
OR
$500 to the first 25 individuals who sign a license to live in Fayette Square to assist with your moving expenses (no need to provide receipts — the money is yours if you sign a license to live in Fayette Square).
These offers are only for individuals who do not currently live or have a license signed with Fayette Square.
Learn More About the Scholarship and Incentives
Learn more about the $5,000 scholarship and express interest by filling out this form. To learn more about the $3,000 scholarship and incentives and to express interest, fill out this form.
Check Us Out
To learn more about this convenient housing option, you can conduct a virtual or in-person tour, complete an application, or visit our website at umaryland.edu/housing. If you would like to schedule a tour or have additional questions, please email umbhousing@umaryland.edu.