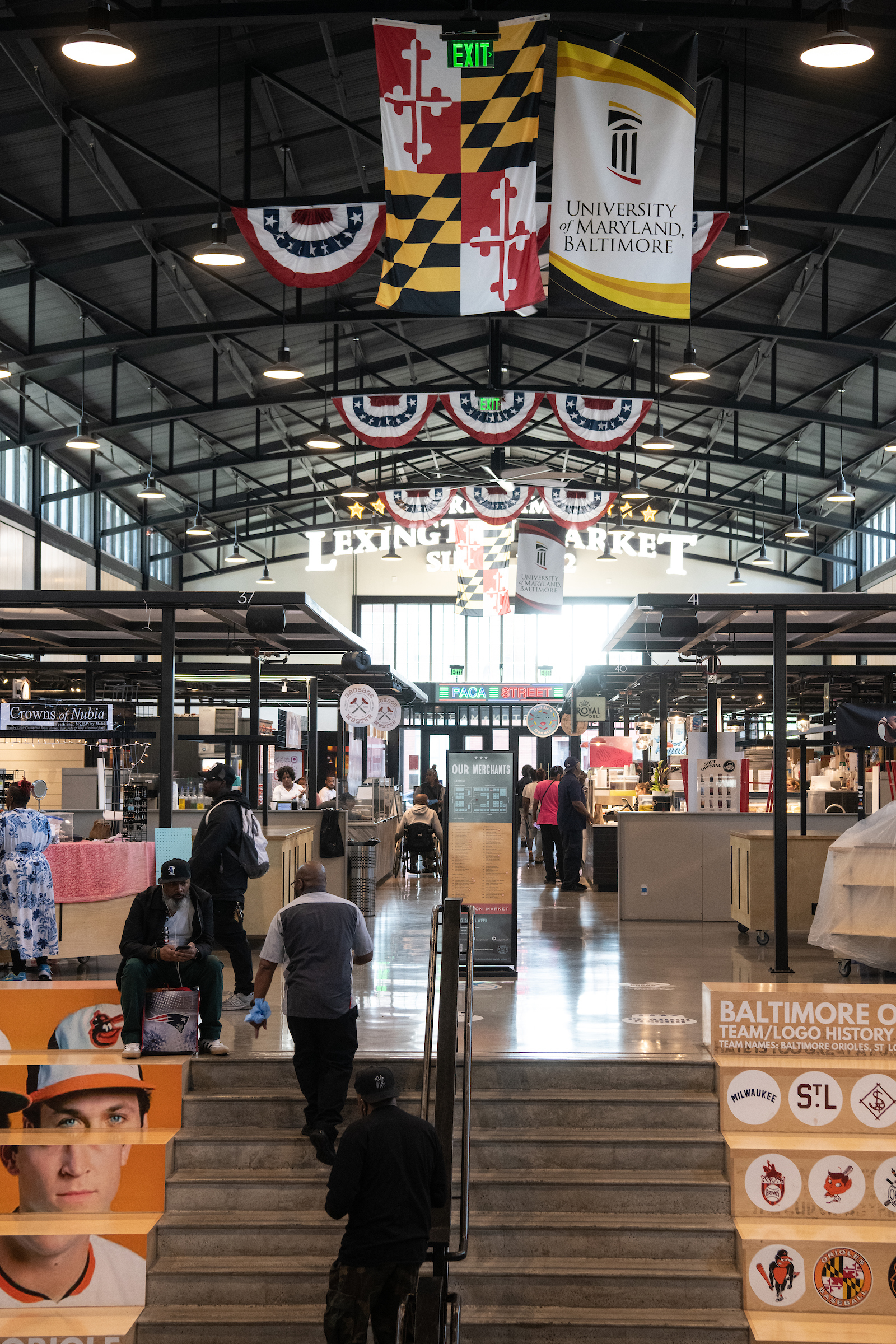 Your University of Maryland, Baltimore (UMB) One Card can open doors for you, both literally and figuratively. Your One Card can get you inside UMB facilities and give you access to the UMB shuttle, URecFit facilities, and UMB libraries. Now, it can also get you a great meal at a discounted rate from world-famous Lexington Market.
Beginning Aug. 25, individuals who show their UMB One Card can get a 10 percent discount from vendors and merchants in Lexington Market. This includes dine-in and carryout foods; dietary staples like produce, butchery items, and seafood; and several service merchants.
(Watch a video about Lexington Market below or at this link.)
This budding partnership between the school and Baltimore's flagship food hall is part of the new Shop Near Your Work effort to promote commerce between the school and local and neighborhood stakeholders.
Historic Baltimore Location

Lexington Market is a culinary destination with a history stretching back more than 200 years. Founded in 1782, it initially was a formal meeting place for the exchange of goods on the outskirts of Baltimore City, which at the time was a bustling port city in an America still fighting its Revolutionary War.
Originally known as Western Precincts Market, the market consisted of two sheds facing each other at the intersection of modern-day Paca and Greene streets. As the market grew, it was renamed Lexington Market in 1818. At its peak, it was home to some 1,172 stalls with 50 fish dealers and over 150 stalls with women listed as their sole owners. Because of its diverse mix of local eateries, food offerings, and handmade products like shoes, socks, jewelry, the market was said to have "something for everyone."
Construction recently concluded on the new market building directly to the south of the current structure. The market's new 60,000-square-foot building harkens back to original market shed structures, with a gabled roofline and space for more than 40 merchants.
All active vendors will display "UMB Discounts Available Here" stickers. The list of currently participating merchants includes Black Acres Roastery, Cho's Sea Garden, Deddle's Donuts, DosiRock, Dragon Bowl, Garden Produce, JBee's Jamaican-Me-Crazy, Just Elbows 9816, Kokee Tea, Krause's Lite Fare, Mount Royal Soaps, Platinum Amala, Plum Good Spice and Tea Salon, Royal Deli, Sausage Master, Sunny Side Cafe, Taharka Brothers, Tio G's Empanadas, and Trinacria.