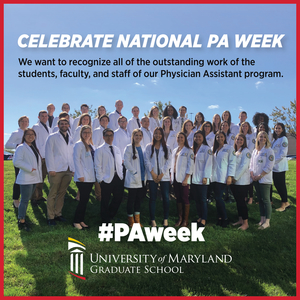 Every year from Oct. 6 - 12 is National PA Week, which recognizes the physician assistant profession and its contributions to the medical community.
This is the first PA Week where UMB has held sponsorship of the PA program. Since partnering with AACC in 2014, this legacy program of 24 years is now sponsored by the UMB Graduate School.
We want to recognize all of the outstanding work of the students, faculty, and staff of our PA program. The program has seen many accomplishments, including the Class of 2020's 100 percent first-time pass rate on the Physician Assistant National Certifying Exam, also known as the PANCE.
Please join us in recognizing PAs for their critical work. Share this post using #PAweek to highlight the important role of physician assistants in the medical system.