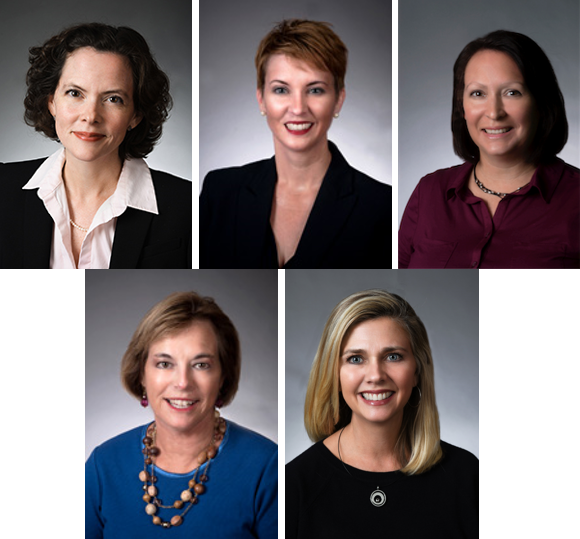 Congratulations to the 2019 University of Maryland School of Nursing Dean's Teaching Scholars:
Katie McElroy, PhD '16, MS '10, BSN '98, RN, and Megan Doede, MS '13, RN
Project title: Faculty Preparation, Implementation, and Evaluation of the Case Study Strategy
Regina Phillips, PhD, MS '79, RN, CNE, and Christine King, EdD, MSEd
Project title: Infusing Interactive Activities into the Classroom
Tonya Schneidereith, PhD, CRNP, PPCNP-BC, CPNP-AC, CNE, CHSE-A
Project title: The Relationship between Educational Methods and Competency Criteria on Medication Dosage Calculation Success Rates
The Dean's Teaching Scholars program facilitates the development of research and programs that support nursing education, and proposals can be either research to support evidence-based practices in teaching or courses/programs that will enhance the teaching/learning process. Based on their proposed budgets, recipients are provided with up to $5,000 in support of their projects. They are also named as Dean's Teaching Scholars for the funding period.
Proposals for the awards undergo a competitive, blind peer-review process and are reviewed against criteria that include fit within the priority areas of the school's strategic plan and teaching mission, scientific merit, significance and innovativeness, and feasibility for completion within the one-year timeframe of the award. The final product of each award is expected to be a manuscript reporting on the project submitted to a peer-reviewed journal.
Information regarding the next call for proposals for this award program will be announced in September 2019.
Photographed above (top row, left to right): Doede, King, and McElroy; (bottom row, left to right): Phillips and Schneidereith