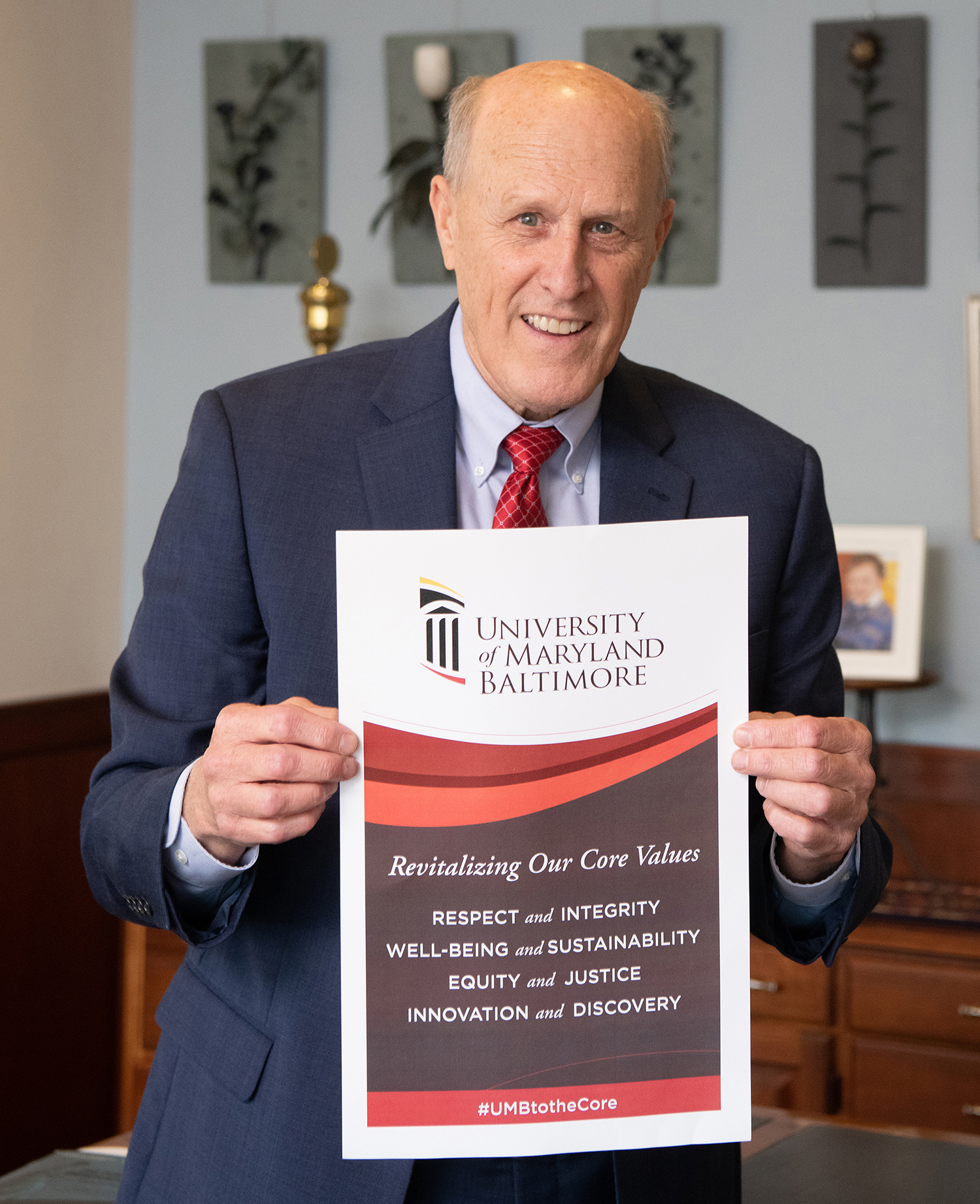 In a letter to the UMB community Oct. 25, 2021, President Bruce E. Jarrell, MD, FACS, announced the University's updated set of core values.
Here is President Jarrell's letter:
Dear UMB Community,
Our values matter. Core values help define and shape the culture of an organization. Just like the University of Maryland, Baltimore (UMB) has evolved from our founding, our core values need to evolve as well.
The 2022-2026 strategic planning process included an in-depth look at the existing core values and solicited and received feedback from the entire UMB community. Through those sessions, we heard the overwhelming response that our existing values should be updated.
I'd like to share with you UMB's updated core values and what they mean:
Respect and Integrity: We value each other and hold ourselves accountable for acting ethically and transparently using compassion and empathy.


Well-Being and Sustainability: We care about the welfare of our people, planet, communities, and University.


Equity and Justice: We embrace and are committed to diversity, and we value inclusive and just communities. We oppose racism and oppression in all their forms.


Innovation and Discovery: We imagine and explore new and improved ways to accomplish our mission through education, research, clinical care, and service.
These new core values better describe the behaviors that UMB considers acceptable. They are tools to guide our behavior, strategies, and decision-making. They set expectations for everyone at every level of UMB.
You'll see these core values rolled out across the University in the coming days and weeks. I hope that you will join me in learning more about them and committing to living our values in your daily activities at UMB.
Sincerely,
Bruce E. Jarrell, MD, FACS
President