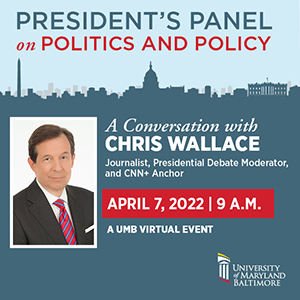 April 7, 2022
9 a.m.
President's Panel on Politics and Policy
"A Conversation with Chris Wallace: Misinformation"
Chris Wallace
Journalist, Presidential Debate Moderator, and CNN+ Anchor
Register here.
Chris Wallace Biography
Chris Wallace breaks down today's top news issues and their impact on individuals and industry. Wallace's thorough presentation of the facts leaves audiences with takeaways that prepare them for impending changes in the political landscape.
The former host of Fox News Sunday, Wallace has established himself as a battle-tested media presence, an incisive, thoughtful interviewer, and a venerable authority on presidential history and election politics. In fact, his interview of Russian President Vladimir Putin received a 2019 Emmy nomination for Best Live Interview.
Over Wallace's decades-long journalism career, he has reported from the ABC News desk as a senior correspondent for Primetime and 20/20, and as an anchor on the longest-running show on television, NBC News' Meet the Press. Wallace has won every major broadcast news award, including three Emmys, the Peabody Award, and the duPont-Columbia Silver Baton Award. In 2016, Wallace earned praise from fellow journalists and political operatives on both sides of the aisle for his sterling performance moderating the final presidential debate between Hilary Clinton and Donald Trump. He returned to the moderator's chair again for the 2020 matchup between Joe Biden and Donald Trump. Wallace is the author of multiple New York Times bestsellers, including "Character: Profile in Presidential Courage" and "Countdown 1945," which tells the extraordinary story of the atomic bomb and the 116 days that changed the world. His latest book, "Countdown bin Laden," traces President Barack Obama's pursuit of the 9/11 mastermind and tells the story of the highly successful U.S. Navy Seal operation that ultimately brought bin Laden to justice.
With substance, fairness, and gravitas, Wallace captivates with seasoned insights on current events and political affairs, including the evolving role of the media and influence of technology on the presidency, America's outlook under President Biden, and what audiences can continue to expect during his administration.