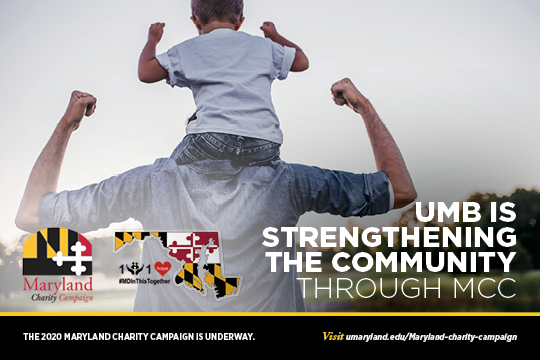 UMB has a long and generous history of participating in the Maryland Charity Campaign (MCC), a workplace charitable giving program offering state employees and eligible retirees opportunities to contribute to charities that are meaningful to them. This year's campaign theme is One Family, One Hope, #MDInThisTogether.
On Nov. 11, many of us will remember and honor family and friends who have served our country proudly. One way to further acknowledge Veterans Day this year is to support one of the several veteran-focused charities such as the Gary Sinise Foundation, Homes for our Troops, Veterans of Foreign Wars Foundation, Wounded Warrior Emergency Support Fund, Wounded Warriors in Action Foundation, Inc., and others that are participating in the 2020 Maryland Charity Campaign.
Contributions can be made through the convenience of payroll deduction or a one-time gift. You can search the 2020 Giving Guide for the charitable organizations taking part this year or click here and select the red Get Started: Sign In button. From there all you will need is the UMB email address connected to your benefits and Workday ID.
Learn more at www.umaryland.edu/MCC.