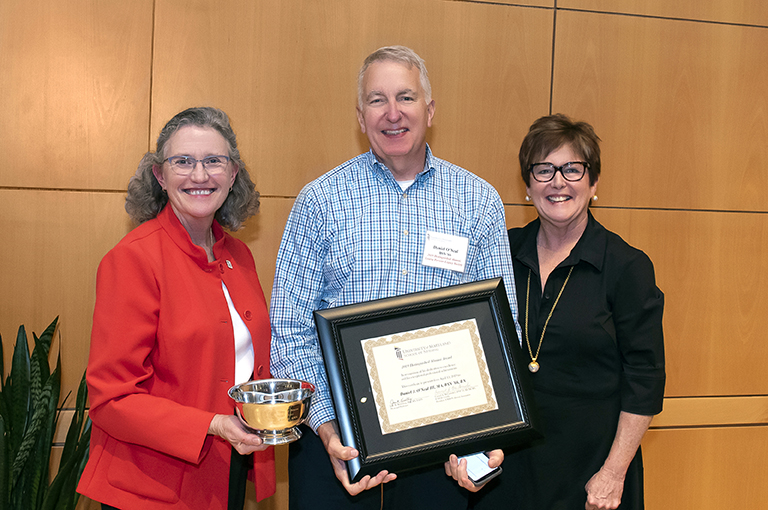 Congratulations to Dan O'Neal III, BSN '66, this year's Distinguished Alumni Award recipient.
O'Neal III graduated from the University of Maryland School of Nursing (UMSON) in June 1966. After graduation, he served on active duty at Walter Reed National Military Medical Center, in a MASH hospital in Vietnam, and as faculty in an Army LPN program. He continued in the Army Reserves for another 27 years, the last decade as chief nurse in three different hospitals, ending with assignment as the mobilization counterpart of the assistant chief of the Army Nurse Corps.
Clinically, he has been staff nurse, head nurse, clinical specialist, and evidence-based practice specialist. He worked as a staff nurse on weekends during his nine years at the American Nurses Association (ANA). Just before retirement, he returned to clinical patient care at a very large veterans hospital where he was a staff nurse with other important nurse roles and titles.
He served as full-time faculty at UMSON (1972-1978), at the universities of Pennsylvania and South Carolina, and part-time at the University of South Florida in Tampa.
When he was an UMSON faculty member, he developed his political activities with a governor's appointment to the Maryland Medicaid Advisory Committee in 1975. As a lobbyist at ANA, he had liaison responsibilities for selected congressional committees and federal regulatory agencies. At the National Institute of Nursing Research (NINR), he was the point person for science policy and managed both the agency's external correspondence, its public presence, and its web or print publications.
He continues his science writing today. He has a solid background in performance improvement and in the development of standards of care, standards of practice, and performance measures in patient care. For the past decade, he has served as board or committee member of a nursing education accrediting organization. There, he helped develop and implement accreditation standards in nursing education.
---
The UMSON Distinguished Alumni Award was established to honor and recognize alumni for their dedication to excellence and exceptional professional achievements. The award was presented to O'Neal during the annual All Alumni Reunion at UMSON on Saturday, April 13, 2019.