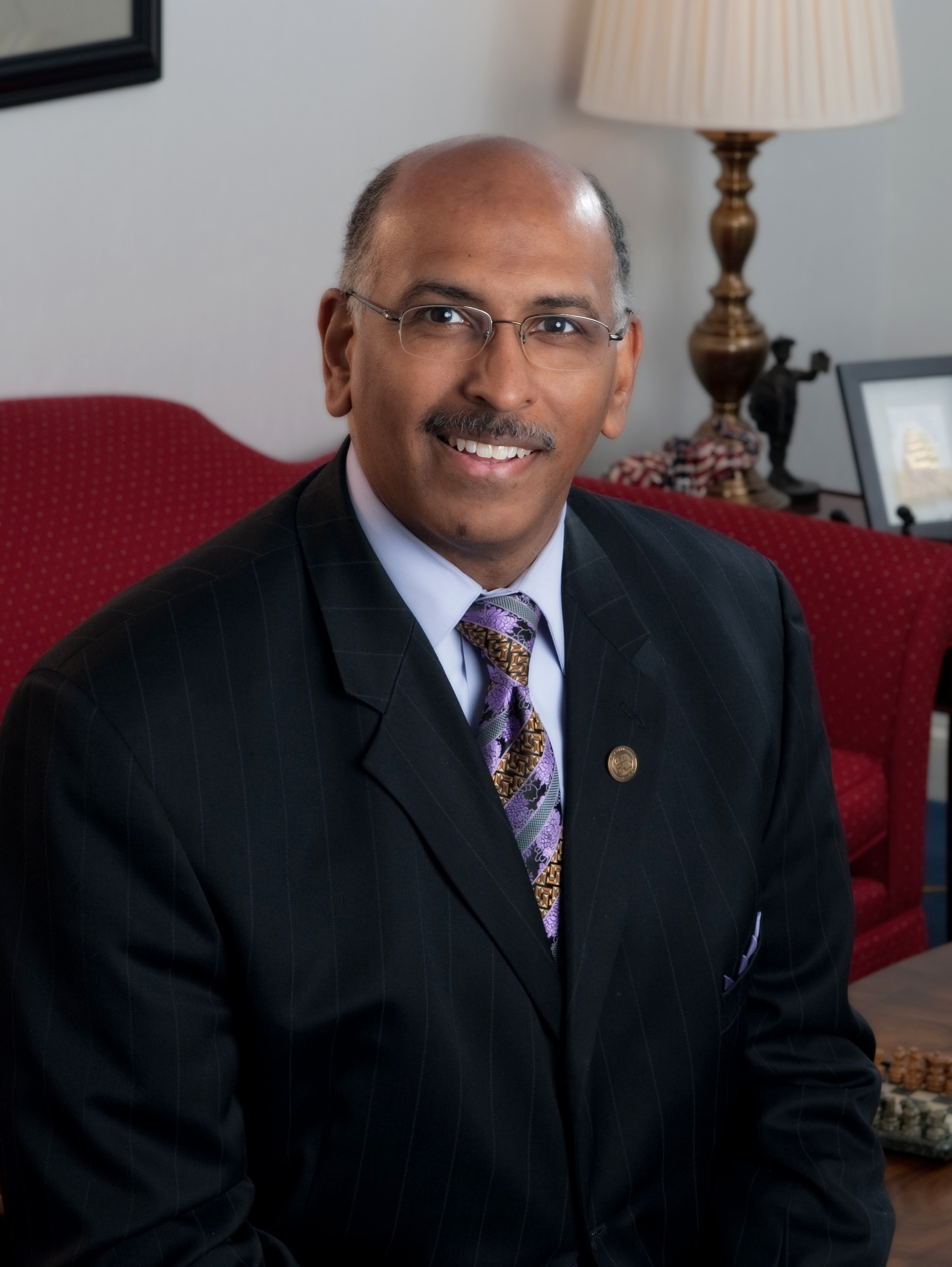 Tuesday, Feb. 25
8 to 8:30 a.m. — Breakfast
8:30 to 10 a.m. — Program and Q&A
SMC Campus Center, Elm Ballrooms
UMB Interim President Bruce E. Jarrell, MD, FACS, will host the next President's Panel on Politics and Policy, "Politics, Parties and Public Service," featuring former Maryland Lieutenant Governor Michael Steele, JD. Steele, who also is a former chair of the Republican National Committee, is currently a political analyst for MSNBC and host of The Michael Steele Podcast.
The President's Panel on Politics and Policy is a speaker series that began in January 2017 and is designed to examine issues important to the UMB community that are likely to be affected by the current presidential administration and Congress.
With so much at stake in terms of health and higher education policy, federal budget priorities, and issues of civil rights and social justice, UMB encourages the University community to take part in these timely conversations.
Michael Steele biography
Michael Steele is an MSNBC political analyst and host of the The Michael Steele Podcast who formerly served as lieutenant governor of Maryland and chair of the Republican National Committee (RNC). Steele made history in November 2002 as the first African-American elected to Maryland statewide office, winning as lieutenant governor under Robert L. Ehrlich Jr., JD. In 2009, he became the first African-American elected to head the RNC.
As lieutenant governor from 2003 to 2007, Steele's priorities included reforming Maryland's Minority Business Enterprise program, improving the quality of the state's public education system, expanding economic development, and fostering cooperation between government and faith-based organizations to help the needy.
Under Steele's leadership, the RNC broke fundraising records in the 2010 congressional cycle with over $198 million raised and Republicans won 63 House seats, the party's biggest pickup since 1938. Steele's commitment to grassroots organizations and party building at the state and local levels produced 12 governorships for Republicans and the greatest share of state legislative seats since 1928.
In addition to his MSNBC role, Steele has appeared on Meet the Press, Face the Nation, Real Time with Bill Maher, and The Daily Show. His writings on law, business, and politics have appeared in numerous publications and websites, including The Wall Street Journal, The Hill, Politico, and The Journal of International Security Affairs. He also is the author of Right Now: A 12-Step Program for Defeating the Obama Agenda, and he contributed a chapter to The Recovering Politician's Twelve Step Program to Survive Crisis.
Steele was born at Andrews Air Force Base in Prince George's County, Md., and raised in Washington, D.C. He graduated from Johns Hopkins University in 1981 and entered the Order of St. Augustine, where he studied for the priesthood. He is a 1991 graduate of Georgetown Law Center, an Aspen Institute Rodel Fellow in Public Leadership, a University of Chicago Institute of Politics Fellow, and a senior fellow at Brown University's Watson Institute for International and Public Affairs.