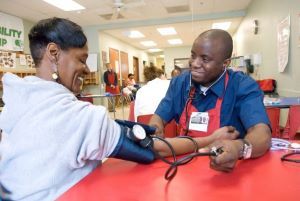 The Fellows Program in Community Engagement is a one-year immersion fellowship for faculty, staff, and community leaders to build skills in community engagement to strengthen community-academic partnerships and service-learning education. Participating fellows will become part of an expanding network of faculty, staff, and community leaders advancing community engagement scholarship and education at UMB.

Beginning in March 2020, fellows will participate in a cohort attending workshops and training seminars, and will have the opportunity to work with a program mentor. At the conclusion of the program, fellows will provide a presentation of their accomplishments related to the integration of service learning and community engagement strategies into their work as a faculty member, staff member, or community leader.
Deadline to apply: Jan. 22.
Learn More and Apply

For questions, please contact Lori Edwards or Sarah Hokenmaier.

The Fellows Program in Community Engagement in an initiative of the Interprofessional Program for Academic Community Engagement (IPACE). IPACE is supported by UMB transformational funding and is housed in the Department of Family and Community Health at the University of Maryland School of Nursing.