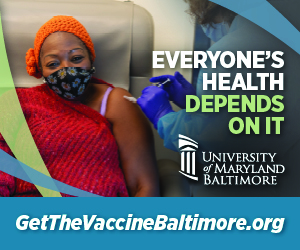 Through its partnership with the Baltimore City Health Department, the UMB COVID-19 Vaccination Clinic at the SMC Campus Center has received approval to vaccinate anyone regardless of whether they live, work, or learn in the city. The UMB Vaccination Clinic will prioritize Baltimore City residents, workers, and students.
In addition, the clinic is offering walk-up vaccination slots from 2:30 p.m. to 6:30 p.m. Thursdays and 10:30 a.m. to 4:30 p.m. Saturdays for:
UMB students and employees
Native Americans and tribal agency employees
Baltimore City residents, workers, and students
Baltimore metro area residents
The Pfizer vaccine is available to those 12 and older. A parent or legal guardian must accompany individuals under age 18.
UMB has partnered with Indian Health Service to provide COVID-19 vaccine doses directly to the Native American community. You can read more about the partnership here.
A one-stop website has been launched for the clinic, GetTheVaccineBaltimore.org.
The clinic will be open from 10 a.m. to 6 p.m. Thursdays, Fridays, and Saturdays.
Vaccination Required for UMB Employees and Students
On April 23, it was announced that UMB employees and students are required to receive the COVID-19 vaccine before returning to campus this fall.
If you are interested in being vaccinated at the SMC Campus Center Vaccination Clinic, please visit GetTheVaccineBaltimore.org to schedule an appointment, walk up from 10:30 a.m. to 4:30 p.m. Thursday through Saturday, or call the SMC Campus Center Vaccination Clinic Call Center at 410-706-3000.
Please contact Human Resource Services or your supervisor if you need to request a religious or medical exemption.