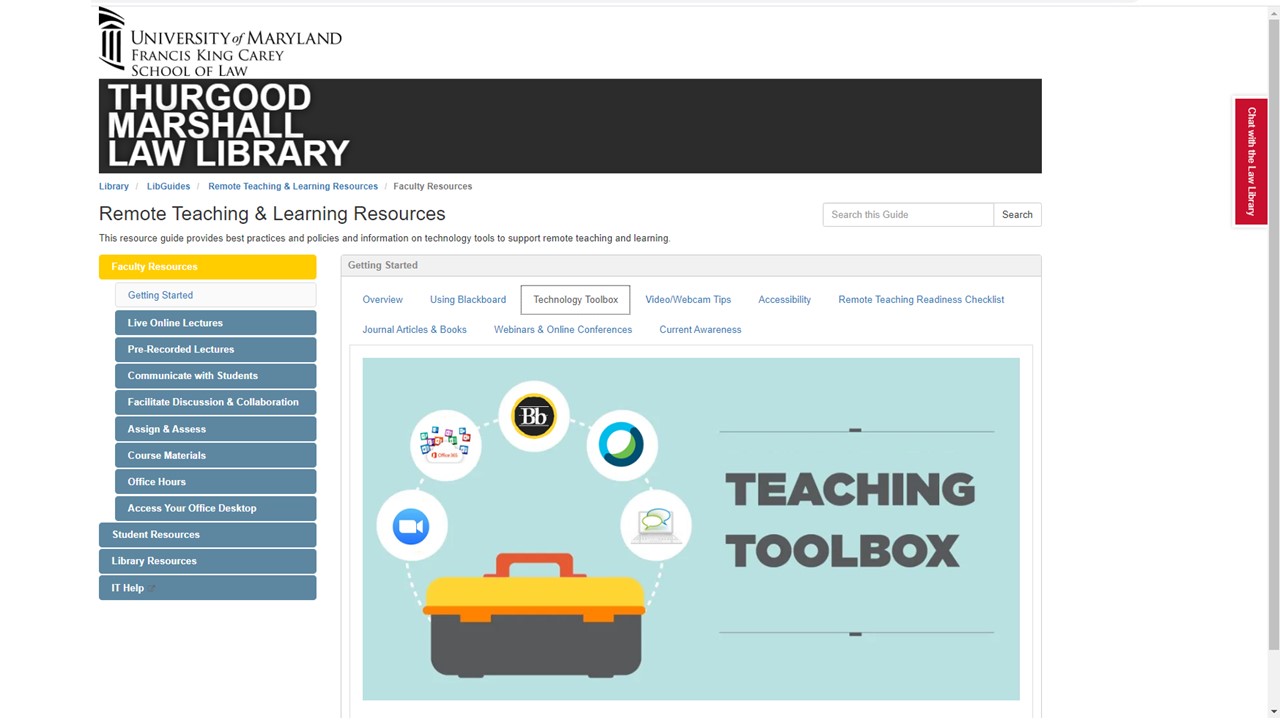 Remote teaching and learning present faculty with opportunities to innovate, to focus on the pedagogy, not just the platform, and to take advantage of interactivity. Remote teaching and learning present students with opportunities for an education beyond the traditional face-to-face classroom. In support of the work to ensure that teaching and learning continue successfully online at Maryland Carey Law in response to COVID-19 closures, the Thurgood Marshall Law Library has compiled a Guide to Remote Teaching & Learning Resources. This guide provides best practices, policies, and information technology tools to prepare faculty and students for remote teaching and learning at Maryland Carey Law.
For faculty, the guide's Getting Started tab provides an Overview of remote teaching and learning, information on Using Blackboard, a Technology Toolbox, Video/Webcam Tips, Accessibility resources, a Remote Teaching Readiness Checklist, and a collection of resources on distance learning from Journal Articles and Books, Webinars and Online Conferences, and Current Awareness. Additionally, faculty can find tips and tools for Live Online Lectures, Pre-Recorded Lectures, Communicating with Students, Facilitating Discussion and Collaboration, Assignments and Assessments, Course Materials, Office Hours, and Accessing Your Office Desktop.
For students, the guide provides Student Resources for Learning, including Best Practices for Online Learning, and tips and tools for the Blackboard Learning Management System, Activities and Assignments, and Communication and Collaboration. The guide also provides tutorials on Blackboard Learn for Students, Zoom for Students, and WebEx Meetings for Students.
Finally, the guide offers Resources from the Law Library, which include the guide to Library Services during COVID-19, and help on How to Use the Library from Off-Campus, as well as contact information for IT Help. For more information, please contact the Law Library Blackboard team at blackboard@law.umaryland.edu, or contact your librarian liaisons.