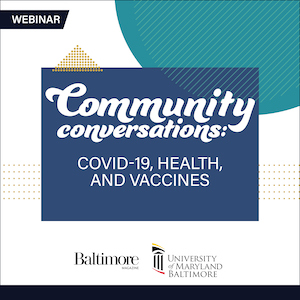 University of Maryland, Baltimore President Bruce E. Jarrell, MD, FACS, will be joined by vaccine experts Wilbur Chen, MD, MS, professor, Department of Medicine, University of Maryland School of Medicine (UMSOM) and James Campbell, MD, MS, professor, Department of Pediatrics, UMSOM, as the speakers for Baltimore magazine's "Community Conversations: COVID-19, Health, and Vaccines" from 11 a.m. to 12 p.m. Jan. 26.
They will discuss the latest information on the virus and how it is affecting our community, including updates on COVID-19 vaccine development, approvals and distribution, and the importance of the vaccine and reaching populations most impacted by the virus.
A question-and-answer session will follow the discussion.