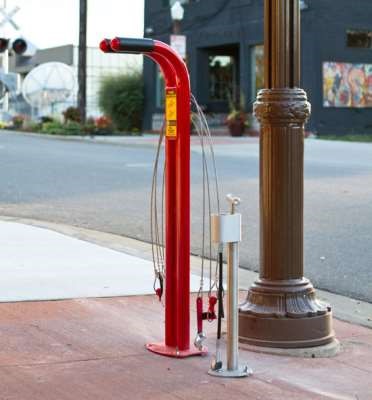 Biking to UMB is a low-impact exercise that increases your health and helps the environment. UMB has made this process even easier by offering a safe place to park and multiple stations to fix your bike.
The bike parking facility in Pratt Street Garage offers a secured bike cage, which houses up to 44 bikes. This 24-hour facility utilizes an access card system to protect faculty, staff, and students. Parking and Transportation Services aims to make biking a preferable alternative option for the UMB community.
For a quick bike repair or air for the tires, just visit one of the bike Fixit Stations installed around the UMB campus. The Fixit stations include all the tools necessary to perform basic bike repairs and maintenance, from changing a flat to adjusting brakes and derailleurs. The tools are securely attached to the stand with stainless-steel cables and tamper-proof fasteners. Hanging the bike from the hanger arms allows the pedals and wheels to spin freely while making adjustments.
Fixit bike stations are available at:
Pratt Garage in the bike cage
Lexington Garage
Baltimore Grand Garage also has an additional air pump for your tires.
For more information on the biking options at UMB, please go to the Parking and Transportation webpage at umaryland.edu/parking/alternative-transportation/bike-parking-facility/.
A bike map of Baltimore can be found at transportation.baltimorecity.gov/sites/default/files/Bike%20Baltimore%20Map.pdf.
The Baltimore Bike Club calendar can be found at baltobikeclub.org/index.php/ride-calendar.