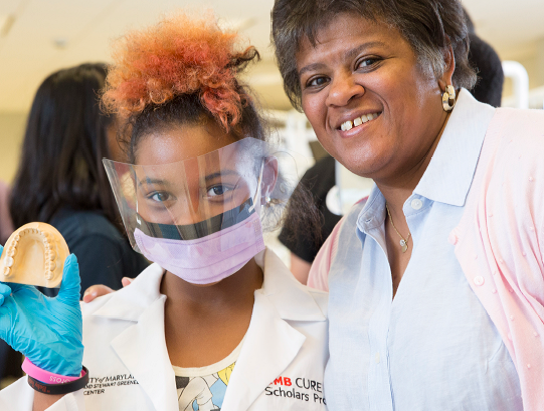 Have you considered becoming a mentor and nurturing the career of a fellow health care professional? Your knowledge and experience can make a huge impact on the life of a student in West Baltimore. Best of all, your commitment will not require too much of your time!
The UMB CURE Scholars Program is a groundbreaking science pipeline initiative that prepares students in West Baltimore for competitive and rewarding research and health care careers. UMB CURE works with middle and high school students in schools Baltimore across the Baltimore area and would love to have UMB alumni, faculty, students, and staff serve as mentors during 2019-20.
Mentor expectations include:
Commit to at least one year of mentorship, with consistent contact at least once a week, biweekly, or once per month dependent on your commitment level.
Assist your mentee with their transition from student to professional, supporting them in decision-making (such as choosing the best high school or college)
Allow your mentee to shadow you at work or attend a meeting, conference, or seminar along with you
Create goals for your own personal and professional development through participation in this program.
To learn more about UMB CURE Scholars Program, please visit this link.
To learn more about mentorship at CURE and our mentoring schedule, click here.
To apply as a mentor, please click here for a mentor application.
The priority deadline for mentor applications is Sept. 21, 2019.
The UMB CURE Scholars Program accepts applications on a rolling basis, but applications submitted by the priority deadline will be considered primarily.
Do not hesitate to reach out with any questions or concerns to Shawdae Harrison, mentoring program coordinator of the UMB CURE Scholars Program, at shawdae.harrison@umaryland.edu.
Thank you for your support in cultivating a vibrant mentoring community at UMB!