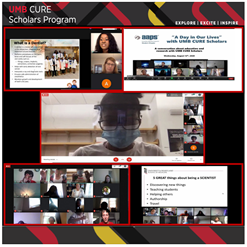 Have you considered becoming a mentor and nurturing the career of a future health care professional? Your knowledge and experience can make a huge impact on the life of a student in West Baltimore.
The UMB CURE Scholars Program is a science pipeline initiative that prepares students in West Baltimore for competitive and rewarding research and health care careers. UMB CURE works with middle and high school students in schools across the Baltimore area and would love to have UMB alumni, faculty, students, and staff serve as mentors.
Since the transition to online learning, the CURE program has been dedicated to offering mentoring opportunities to our scholars virtually. Our new virtual mentoring program will launch this fall, and we're recruiting virtual mentors for our scholars.
Virtual mentors will be assigned to a scholar(s) and required to participate in monthly STEM activities online through Google Classroom and Google Meet.
Virtual mentoring activities include:
Participating in virtual mentee check-ins and career exploration activities in our Virtual Google Classroom.

Participating in online homework help sessions, group mentoring sessions, virtual tours, or special guest speaker presentations via Google Meet.
To learn more about the UMB CURE Scholars Program, please visit this link.
To apply to become a virtual mentor, please click here for our mentor application.
The priority deadline for mentor applications is Sept. 25, 2020.
The UMB CURE Scholars Program accepts applications on a rolling basis, but applications submitted by the priority deadline will be considered primarily.
Do not hesitate to reach out with any questions or concerns to Shawdae Harrison, mentoring program manager of the UMB CURE Scholars Program, at shawdae.harrison@umaryland.edu.
Thank you for your support in cultivating a vibrant mentoring community at UMB!