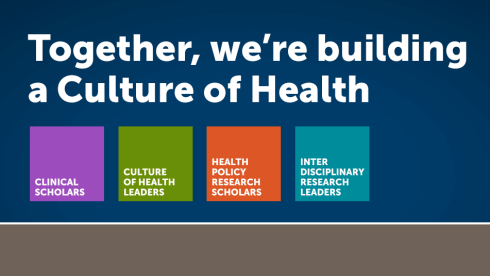 Across the country -- from Alaska to Puerto Rico and from all walks of life -- leaders in our programs are building a Culture of Health, ensuring that everyone in America has the opportunity to achieve the best possible health and well-being.
These Robert Wood Johnson Foundation programs are designed to build on your leadership skills and connect you with other innovators to advance creative, action-oriented solutions to our nation's most entrenched challenges to health.
Participants receive financial support and do not need to relocate. The programs are designed for people working or pursuing research full-time.
Applications are open for four of our programs:
Clinical Scholars is seeking teams of health care professionals from all disciplines, including dentists and pharmacists. Deadline: March 11.
Culture of Health Leaders is looking for people from all sectors-including business and tech-who are committed to advancing equity, diversity, and inclusion. Deadline: February 19.
Health Policy Research Scholars is looking for second- and third-year doctoral students from all fields that have a direct impact on health policy. Deadline: March 11.
Interdisciplinary Research Leaders is looking for teams of researchers and community partners focused on community environment and health or families and child health. Deadline: March 11.
Not sure which program is right for you? Try the Program Finder to determine the best match.