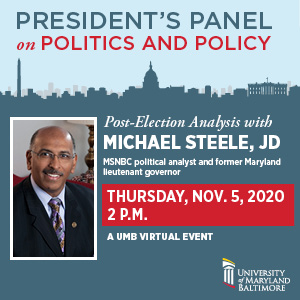 Michael Steele, JD, will offer his post-election analysis at UMB's virtual President's Panel on Politics and Policy at 2 p.m. Nov. 5.
(Learn more and find a registration link here.)
A skilled communicator and political analyst, Steele surveys the political landscape and provides his unique perspective on the headlines and 2020 presidential election. As a leader in the Republican Party with strong ties to the Washington community, Steele offers valuable insight on the hard-hitting topics of the day and the many benefits of fostering cooperation between government and faith-based organizations to help those in need.
Sworn in as lieutenant governor of Maryland in 2003, Steele made history as the first African American elected to statewide office, breaking similar ground when named by the GOP as chairman of the Republican National Committee (RNC) in 2009. Steele's background positions him as an expert on a variety of topics, from political strategy and fundraising, to political action committees and the complexities of election reform. He is currently a senior advisor for the Lincoln Project, a bipartisan coalition built in opposition to President Donald Trump.
In his role as chairman of the Republican National Committee, Steele revitalized the Republican Party, breaking fundraising records during the 2010 congressional cycle to over $198 million and winning 63 Republican House seats — the biggest pickup since 1938. As a leader committed to grassroots organization, he understands the value of party building at the state and local levels and played a major role in helping to produce 12 governorships and over 760 seats, the greatest share of state legislative seats since 1928.
Steele was raised a Democrat. Later in life, however, he switched parties to become a Republican — a decision he attributes to his belief in President Ronald Reagan's philosophy of self-reliance. Steele shares the strategies he used in getting things done in politics, particularly in situations involving opposing views. As Maryland's lieutenant governor, for example, that included reforming the state's Minority Business Enterprise program, improving the quality of Maryland's public education system, championing its historic charter school law, and expanding the state's economic development.
The President's Panel on Politics and Policy is a speaker series examining issues important to the University of Maryland, Baltimore community including health and higher education policy, federal budget priorities, and civil rights and social justice.