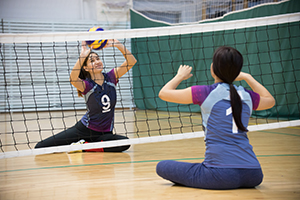 Wednesday, Oct. 23
5 p.m. to 8 p.m.
Pratt Gym, SMC Campus Center

For the first time, URecFit and the Office of Educational Support and Disability Services (ESDS), both in the Division of Campus Life Services, are partnering to bring the UMB campus an inclusive recreation activity.
All students, faculty, and staff are invited to learn to play 6-on-6 sitting volleyball, a form of volleyball for athletes with a disability. No previous knowledge of the sport is necessary. Staff will be available to assist you in playing.
Since the event is close to Halloween, players are encouraged to wear comfortable costumes, but they're not required. Neither is event registration. Just show up ready to play.
Come and earn Poe Cup points and check off an activity for the URecFit decathlon and have great time while doing it!
For more information about sitting volleyball, including how the game is played, watch this video produced by the Paralympic Games.
If you need an accommodation, please contact urecfit@umaryland.edu by Wednesday, Oct. 16.