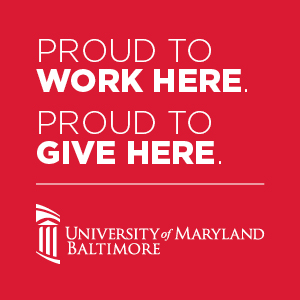 The 2018/2019 Proud to Work Here Proud to Give Here campaign was a great success. Below are highlights from just four of the many employee-supported funds that are making an impact at UMB.
When UMB employees work together, EVERYONE BENEFITS!
CURE Scholars Sustaining
$17,856 from faculty and staff donors
124 gifts received
$77 average new gift amount
School of Nursing General Scholarship Fund
51 faculty and staff donors
74 percent of gifts were $50 or less
Staff Senate Fund
19 first-time donors
54 faculty and staff donors
Average gift size was $30
School of Dentistry Dean's Innovation Fund
Most frequent gift received was $50
23 faculty and staff donors
We have a lot to be PROUD of as we work together to further UMB's mission and build a strong culture of philanthropy.
Visit umaryland.edu/philanthropy/proud to learn more about the 2019-2020 campaign and start making your impact today!