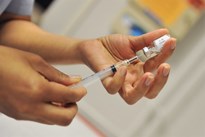 The purpose of this certificate training program is to prepare pharmacists with the comprehensive knowledge, skills, and resources necessary to provide immunization services to patients.
To complete the program, you must attend the Zoom session and the in-person session.
Saturday, March 6, 2021 - 8:00am - 3:00pm (Virtual, Zoom)
Saturday, March 20, 2021 - 8:30am - 4:30pm (In-person, participants should plan to attend for one hour at their assigned time; participants will be able to select their assigned time through an online sign-up form sent prior to the training date, slots are available at a first response basis)
During the hands-on assessment, participants will be required to complete and receive two intramuscular injections and one subcutaneous injection with another participant.
To maintain social distancing as much as possible and to properly disinfect between assessments, participants will be assigned a one-hour time slot for their assessment. Attendees are required to wear a mask at all times while in the building.
The University of Maryland School of Pharmacy will provide hand sanitizer and gloves. The preparation and evaluation stations will be cleaned between each set of participants.
Please contact CEHelp@rx.umaryland.edu for any questions or concerns regarding safety precautions for COVID-19.
For more information and to register, visit https://ce.pharmacy.umaryland.edu/products/APhAs-Pharmacy-Based-Immunization-Training-March-2021.aspx.
FEE: $395.00