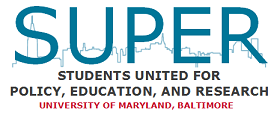 Take part in the Students United for Policy, Education, and Research (SUPER) Executive Board elections!
SUPER is a student organization that educates the campus about current health care research development, advocacy, and policy practices. We partner with the UMB community to host fun and interesting events each semester.
SUPER has the following positions open for the fall 2019 semester:
President*
Vice president
Treasurer*
Communications chair
Policy and research chair
*Candidates seeking the president or treasurer positions will fall under the Junior Executive Board.
Deadline: May 15, 2019
For questions or more information about the election, please reach out to umb.super@gmail.com.